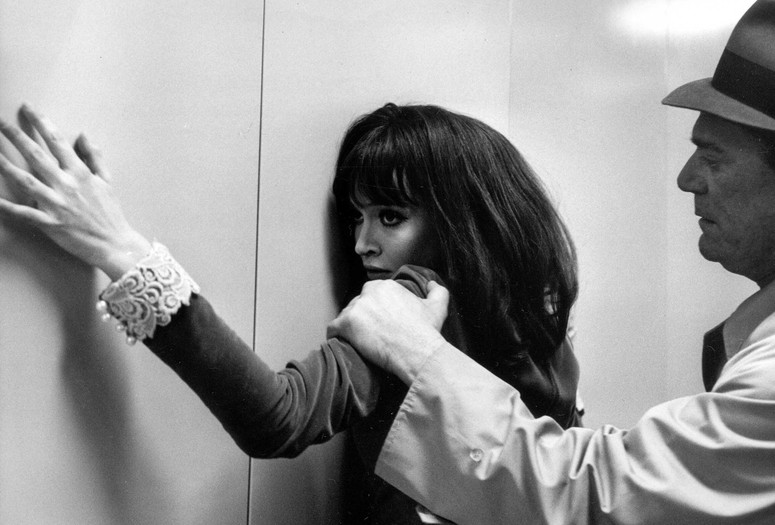 "Anticipation" in Le Plus vieux métier du monde (The Oldest Profession). 1967. France. Written and directed by Jean-Luc Godard. With Anna Karina, Jacques Charrier, Marilù Tolo. Digital preservation courtesy of Gaumont. In French; English subtitles. 19 min.
In Godard's wry contribution to an omnibus film about prostitution throughout the ages, future sex has been reduced to a State-controlled transaction stripped of intimacy or meaning. Only a kiss from Anna Karina-—as passionate and life affirming as the first kiss ever depicted in the movies (Edison's 1896 film)—can restore true love and communication between men and women.
Alphaville, une étrange aventure de Lemmy Caution (Alphaville). 1965. France. Written and directed by Jean-Luc Godard. With Eddie Constantine, Anna Karina, Akim Tamiroff. DCP courtesy of Rialto Pictures. In French; English subtitles. 99 min.
Andrew Sarris recalls that when Alphaville opened the 1965 New York Film Festival in 1965—as a benefit for the ACLU, no less!—"I felt waves of hatred washing up on the screen." Yet for the very reasons it may have baffled or bored contemporary mainstream audiences-—Godard's habitual name-dropping of high and low culture, his jarring experiments with sound and camera movement—Alphaville has aged brilliantly. Devoid of special effects or futuristic sets, Godard's visionary science-fiction noir, his self-described "fable on realistic ground," transforms the nocturnal streets and modernist buildings of Paris into a shimmeringly surreal black-and-white dystopia. A tract against technological totalitarianism and an éloge to poetry and love, Dick Tracy comics, the novels of Céline, and The Big Sleep, these strange adventures of Lemmy Caution have profoundly influenced many of the films in this exhibition, from Rainer Werner Fassbinder's World on a Wire to Andrew Niccol's Gattaca.