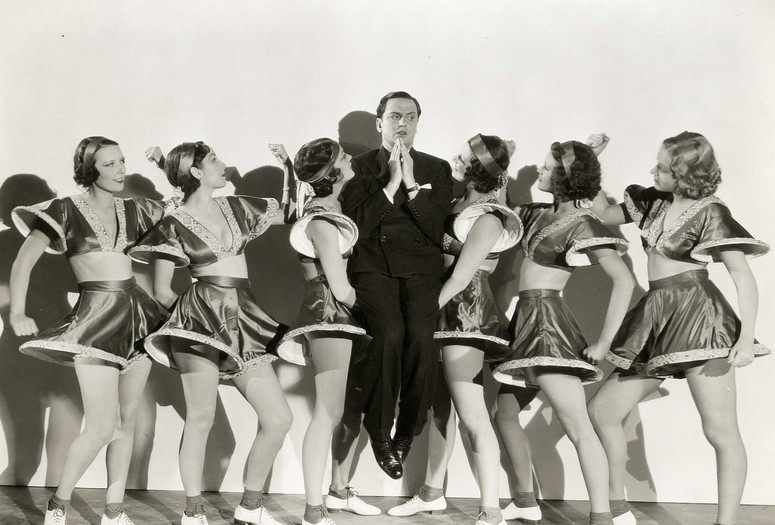 6 Hours to Live. 1932. USA. Directed by William Dieterle. Screenplay by Morton Barteaux, Bradley King, Gordon Morris. With Warner Baxter, Miriam Jordan, John Boles. New 35mm preservation by The Museum of Modern Art with funding support from 20th Century Fox and Turner Classic Movies. 72 min.
Brought back to life, Warner Baxter has only six hours to find his killer—and bring about world peace—in this proto-noir sci-fi film, newly preserved in 35mm by MoMA from its unique Fox nitrate materials. William Dieterle, a veteran of German Expressionist acting, enlisted the great cinematographer John Seitz to imbue the film with the kind of otherworldly mysticism that would later make his Portrait of Jennie so unforgettable.
It's Great to Be Alive. 1933. USA. Directed by Alfred L. Werker. Screenplay by Arthur Kober, Paul Perez. With Raúl Roulien, Edna May Oliver, Gloria Stuart. New 35mm preservation by The Museum of Modern Art with support from The Celeste Bartos Fund for Film Preservation. 69 min.
In Fox's frisky pre-Code sex comedy, Brazilian matinee idol Raúl Roulien croons his way through a plague of "masculitis" to become the last man on Earth. While a team of women scientists, led by Edna May Oliver, scramble to invent a synthetic surrogate for the world's male population, a cigar-chomping lady gangster (Dorothy Burgess) hatches a plot to kidnap the reformed Lothario and auction him off to the highest bidder.