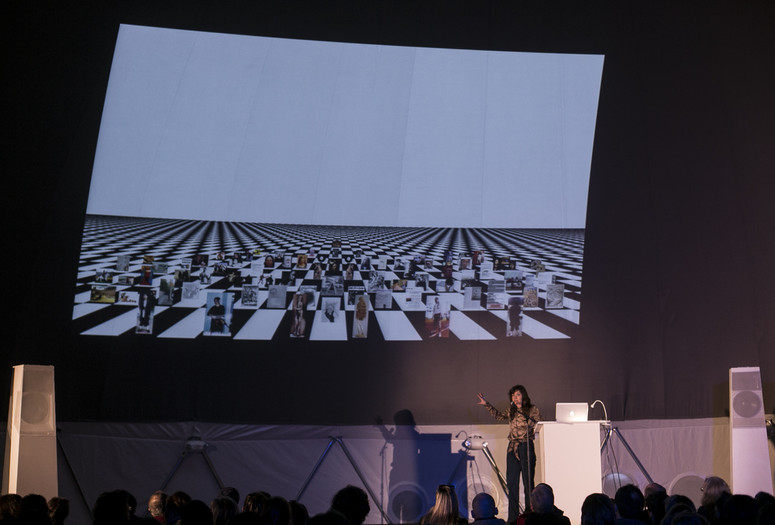 In a variant on what used to be called a slide-illustrated lecture, Frances Stark pays homage to Mike Kelley through a performative meditation organized around key elements culled from her most recent work, Bobby Jesus's Alma Mater b/w Reading the Book of David and/or Paying Attention Is Free (2013), which is on view at the Carnegie International in Pittsburgh.
Frances Stark (b. 1967) is a Los Angeles-based artist whose art makes use of the most ephemeral of means to wrestle the big bad outside world – its titillations and pleasures, as well as its discontents. Her work is deeply rooted in language, music and poetry. In recent years, Stark has used videos to exploit the contradictions of real time exchanges between virtually projected characters and worlds. My Best Thing, her breakout work in this vein, played at MoMA PS1 from October through July, 2012. Stark was also a student of Mike Kelley, and her program at the VW Dome revisits that seminal relationship.
Sunday Sessions is a weekly presentation of performance, moving images, dance, music, and discursive programs. Its mission is to embrace live arts as an integral aspect of contemporary practice and ask how art forms, which unfold in the here and now, produce specific ways of thinking and useful means to engage with the broader world. Every Sunday different artists, curators, thinkers and a range of other cultural agents are invited to share their latest projects and ideas with the MoMA PS1 audience.
The music and performance portion of Mike Kelley is organized by guest curator Mark Beasley, with Jenny Schlenzka, Associate Curator, and Eliza Ryan, former Assistant Curator, MoMA PS1.

Sunday Sessions is organized by Jenny Schlenzka, Associate Curator with Mike Skinner, Producer, and Alex Sloane, Live Programs Coordinator.

Sunday Sessions and the VW Dome at MoMA PS1 are made possible by a partnership with Volkswagen of America.