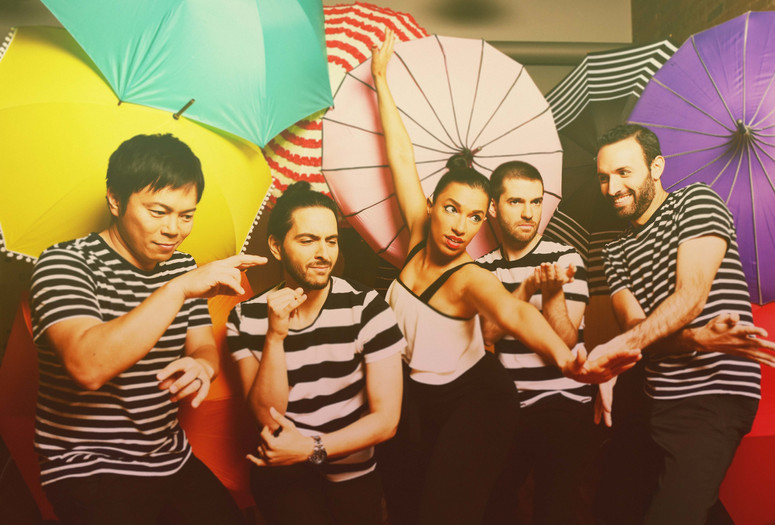 Magda Giannikou, accordion and vocals; Ignacio Hernandez, guitar; Keita Ogawa, percussion and vocals; Mika Mimura, vibraphone and vocals; Matt Aronoff, bass and vocals
Banda Magda, led by Greek-born composer, orchestrator, singer, and accordionist Magda Giannikou, moves from samba to French chanson, from Greek folk tunes to Colombian cumbia and Afro-Peruvian lando. Drawing on the musicians' global backgrounds (Greece, Argentina, Japan, Colombia, US), the group combines South American rhythms with jazz improvisation, cinematic arrangements, sophisticated audience participation, mid-century classics, and world "chansons" sung in six languages. Founded in 2010 in New York, Banda Magda has toured in more than 22 countries on five continents. The group transforms Giannikou's songs into engaging romps that have won them spots on both the Carnegie Hall Musical Explorers series and Snarky Puppy's Family Dinner albums, as well as performances at the Atlanta Jazz Festival, WOMAD Festival, Vancouver Jazz Festival, L'Olympia, Jazz à Vienne, Canarias Jazz, Apollo Hammersmith, Kathmandu Jazz Festival, the Kennedy Center, and many others. The band is now putting the finishing touches on its third album, Tigre, which follows Amour, t'es là? (2013) and Yerakina (2014).
Every Thursday in July and August, 5:30–8:00 p.m.
Live music begins at 6:30 p.m.
Regular Museum admission applies. Performances take place in the Sculpture Garden. In the event of rain, the Garden will close, and music will take place in Theater 1. Please note: Sculpture Garden and indoor seating are limited and on a first-come, first-served basis.
The musical component of Summer Thursdays 2018 celebrates musicians living and working in New York City. Organized in collaboration with PopRally, the series hosts a variety of sounds that explore the City's expansive musical landscape. Each evening, unique sonic flavors fill the Sculpture Garden with a range of blended genres such as dream punk, Afrofuturist soul, funk fusion, hip-hop, experimental, and lo-fi baroque pop.