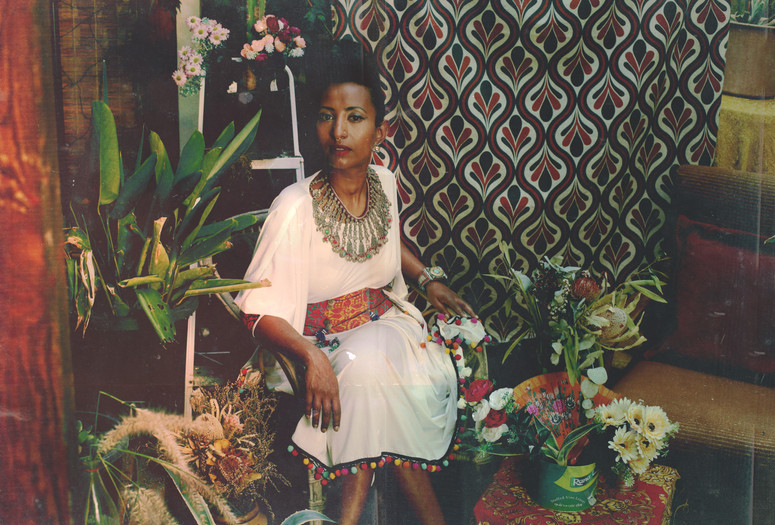 Alsarah, lead vocals; Nahid, vocals; Brandon Terzic, oud; Mawuena Kodjovi, bass, trumpet, and vocals; Rami El Aasser, percussion and vocals
Alsarah is a singer, songwriter, and ethnomusicologist, born to human-rights-activist parents in Khartoum, Sudan. The family resettled first in Yemen and, when civil war broke out there, in Massachusetts, where she and her sister Nahid began their musical training. The Nubatones emerged from a common love for the richness of pentatonic sounds in Sudanese and Nubian music and the shared migration experiences of the musicians, who include the Egyptian-American Rami El Aasser, the Togo-born, French-raised bassist Mawuena Kodjovi, and the Midwestern oud player Brandon Terzic. The Brooklyn-based group's sound soon grew into a style Alsarah dubbed "East African retro-pop." Since its first show in October 2011, the group has performed nationally and internationally at many prestigious festivals and venues. March 2014 saw the release of the Nubatones' debut album, Silt, and in 2016 they released their second album, Manara (Wonderwheel Recordings). With audiences of nearly every age and ethnicity, the Nubatones have proven over and over that soul crosses all cultural and linguistic barriers.
Every Thursday in July and August, 5:30–8:00 p.m.
Live music begins at 6:30 p.m.
Regular Museum admission applies. Performances take place in the Sculpture Garden. In the event of rain, the Garden will close, and music will take place in Theater 1. Please note: Sculpture Garden and indoor seating are limited and on a first-come, first-served basis.
The musical component of Summer Thursdays 2018 celebrates musicians living and working in New York City. Organized in collaboration with PopRally, the series hosts a variety of sounds that explore the City's expansive musical landscape. Each evening, unique sonic flavors fill the Sculpture Garden with a range of blended genres such as dream punk, Afrofuturist soul, funk fusion, hip-hop, experimental, and lo-fi baroque pop.