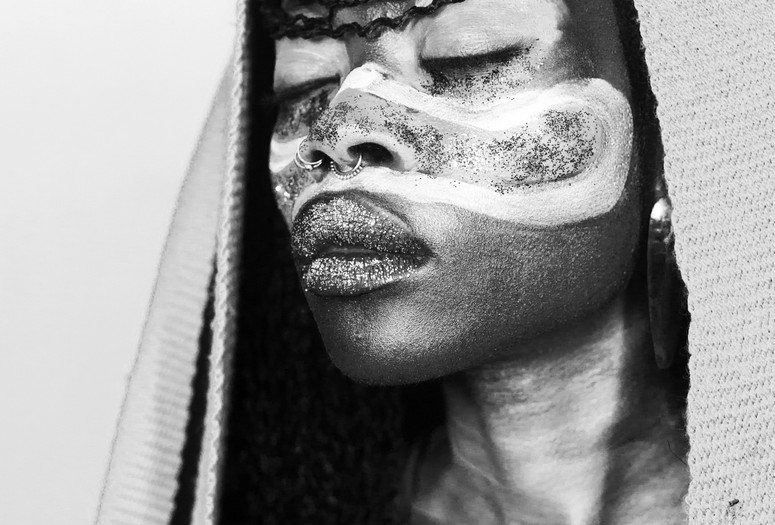 Jojo Abot, vocals; Ben Hoffman, keyboards; Chris Vendetti, guitar and bass; Manuel Guevara, drums
The Ghanaian artist Jojo Abot calls her signature sound "Afro-Hypno-Sonic": an experimental blend of electronica, Afro-beat, jazz, neo-soul, house, and reggae, among others. She investigates new forms of spirituality and expression as part of a growing global conversation around shared space and shared identity, beyond biases of color, race, class, and sexual orientation. Her 2015 debut EP, Fyfya Woto, tells a story in song, a diary of a woman's right to choose how to live; the narrative emerges from the generational ties that bind the women in the protagonist's family together. Earlier this year, Abot opened for two of Lauryn Hill's tours, culminating in a show at Radio City Music Hall. Abot has also performed at iconic venues such as the Apollo Theater, the Kings Theater in Brooklyn, and the Kennedy Center. She is a participant in New Inc., the New Museum's "incubator" program for the professional development of those working in experimental art, design, and technology. She continues to develop new ways to connect, not only in music, but also through film, photography, literature, and performance art.
Every Thursday in July and August, 5:30–8:00 p.m.
Live music begins at 6:30 p.m.
Regular Museum admission applies. Performances take place in the Sculpture Garden. In the event of rain, the Garden will close, and music will take place in Theater 1. Please note: Sculpture Garden and indoor seating are limited and on a first-come, first-served basis.
The musical component of Summer Thursdays 2018 celebrates musicians living and working in New York City. Organized in collaboration with PopRally, the series hosts a variety of sounds that explore the City's expansive musical landscape. Each evening, unique sonic flavors fill the Sculpture Garden with a range of blended genres such as dream punk, Afrofuturist soul, funk fusion, hip-hop, experimental, and lo-fi baroque pop.