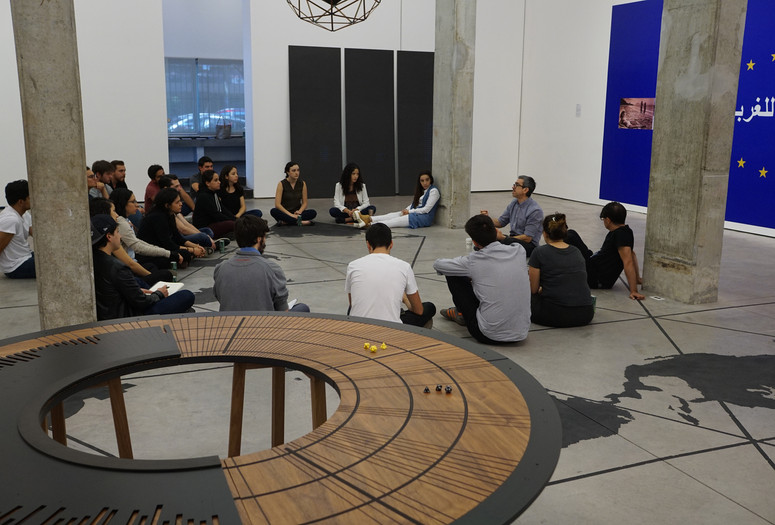 Frank Lloyd Wright envisioned an architectural style that would depart from established conventions and respond specifically to the land and culture of the United States. To describe his vision for buildings, landscapes, and cities in this country he took up the term "Usonian" rather than "American," emphasizing its distinct character.
In this workshop participants are invited to collaborate with others on a design challenge that explores the possibilities of a Usonian architecture today. Following structured, fast-paced interviews and design activities, participants will map, diagram, and sketch their own collective version of an architectural feature that defines borders and belonging: a Usonian wall. Through this process participants are encouraged to discuss the needs of their community and country with others, and to consider how limits and parameters frame a common project.
Free with admission. Not appropriate for children under 10. Space is limited and available on a first-come, first-served basis. Sign-up begins half an hour prior to each workshop.
This workshop is led by Raúl Cárdenas Osuna.
Raúl Cárdenas Osuna is the founder of Torolab, an artist collective focused on projects related to quality of life. Torolab's work has been shown at The Museum of Modern Art, New York; Louisiana Museum of Modern Art, Denmark; Moderna Museet, Stockholm; MCA Australia, Sydney; and the Havana, Liverpool, Lyon and Venice biennials, and their projects have been granted awards from the Rockefeller Foundation, Harvard's Cultural Agents Initiative, and other organizations. Cárdenas Osuna has been an advisor for the city of Tijuana on sustainable city development and social innovation. He founded the Digital and Creative axis for the Metropolitan Strategic Plan of Tijuana-Rosarito-Tecate and currently directs the Transborder Farmlab program.