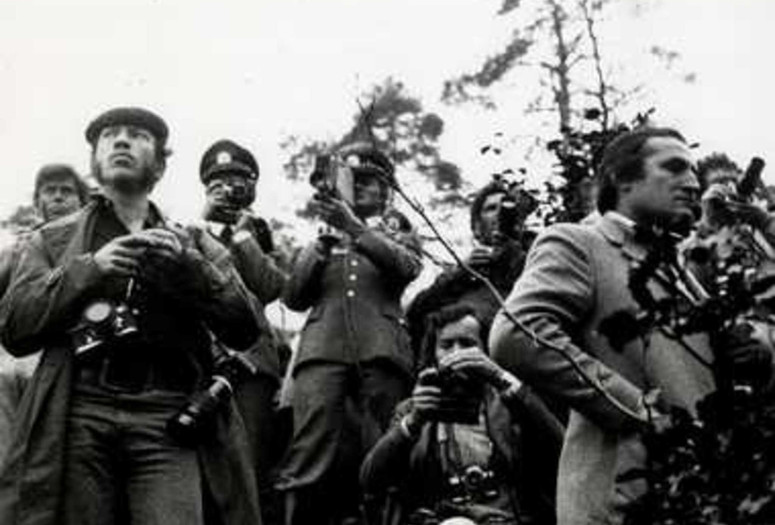 Arnulf Rainer
1960. Austria. Directed by Peter Kubelka. 7 min.
Picture and Sound Rushes
1973. USA. Directed by Morgan Fisher. 11 min.
Screen Test: Penelope Palmer
1966. USA. Directed by Andy Warhol. 4 min.
Einleitung zu Arnold Schönbergs Begleitmusik zu einer Lichtspielscene (Introduction to Arnold Schoenberg's "Accompaniment to a Cinematic Scene")
1973. West Germany. Directed by Jean-Marie Straub, Danièle Huillet,. 15 min.
The print being screened is color faded and the subtitles may be difficult to read. We apologize for any inconvenience, however we were unable to locate a better exhibition copy.
Loin du Vietnam (Far from Vietnam)
1967. France. Jean-Luc Godard, Joris Ivens, William Klein, Claude Lelouch, Chris Marker, Alain Resnais, and Agnes Varda. 120 min.
Deutschland im Herbst (Germany in Autumn)
1978. West Germany. Directed by Alf Brustellin, Hans Peter Cloos, Rainer Werner Fassbinder, Alexander Kluge, Beate Mainka-Jellinghaus, Maximiliane Mainka, Edgar Reitz, Katja Rupé, Volker Schlöndorff, Peter Schubert, Bernhard Sinkel. 123 min.