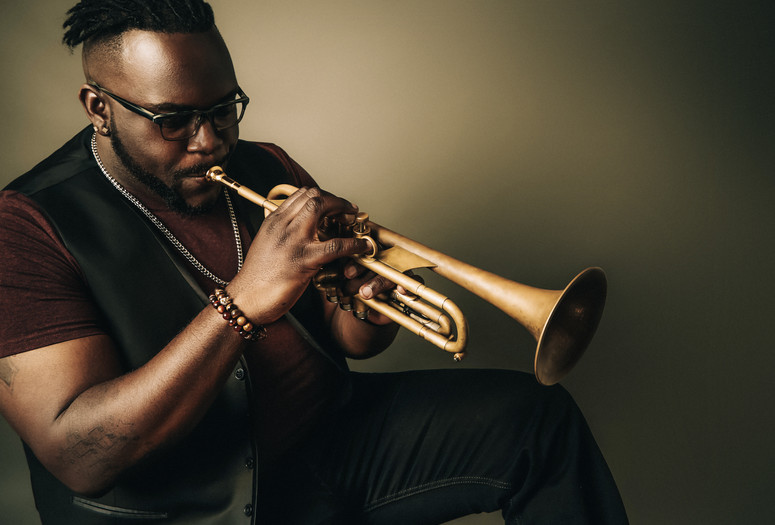 Marquis Hill, trumpet; Joel Ross, vibraphone; Chris Smith, bass; Jonathan Barber, drums
Marquis Hill, a native of Chicago, is a highly skilled musician with a bent toward soulful post-bop. He holds degrees in music from Northern Illinois University and DePaul University. In 2014 he won the prestigious Thelonious Monk Institute International Jazz Competition. He has performed with a wide array of artists, including Marcus Miller, Benny Golson, and Rodney Whitaker. In 2016 he released his fifth album, The Way We Play, on the Concord label.
At Summergarden, the Marquis Hill Project will premiere his new composition Grace in Motion. The work celebrates the life of the artist, activist, and educator Augusta Savage (1892–1962). Under-recognized during her lifetime, she was a key figure in the Harlem Renaissance, working alongside Marcus Garvey and W. E. B Du Bois, both of whom she sculpted. As an educator, she played a critical role in the early careers of artists such as Jacob Lawrence, Norman Lewis, and Gwendolyn Knight. Mr. Hill writes that Grace in Motion draws inspiration from Savage's aesthetic statements and the watershed moments of her life.
The Museum of Modern Art established Summergarden in 1971. In keeping with MoMA's history of presenting jazz and classical music in the Sculpture Garden, this year's concert series once again welcomes the participation of The Juilliard School and Jazz at Lincoln Center. Titled New Music for New York, the series comprises four evenings of adventurous contemporary music, with premieres each night. Juilliard concerts are performed by members of the New Juilliard Ensemble and the Ansonia Quartet, under the artistic direction of Joel Sachs. Mr. Sachs has assembled two distinctive programs of recent compositions, which are enjoying their New York premieres. Jazz at Lincoln Center has selected two stylistically different jazz ensembles whose concerts emphasize original works, each with one world premiere.
Summergarden is free and seating is on a first-come, first-served basis. The Sculpture Garden may close if attendance reaches maximum capacity. Entrance to Summergarden is through the Sculpture Garden gate on West 54 Street between Fifth and Sixth avenues. The Sculpture Garden opens at 7:00 p.m., and concerts start at 8:00 p.m. and run approximately one hour to 90 minutes. The Sculpture Garden closes at 10:00 p.m. In the event of rain, concerts will be held in The Agnes Gund Garden Lobby, and the Museum's 54 Street entrance will open at 7:30 p.m. The exhibition galleries are closed during Summergarden. The Garden Bar, located on the northeast end of the Sculpture Garden, features a selection of homemade snacks, draft beer, wine, and nonalcoholic beverages. In the event of rain, the Garden Bar is closed.