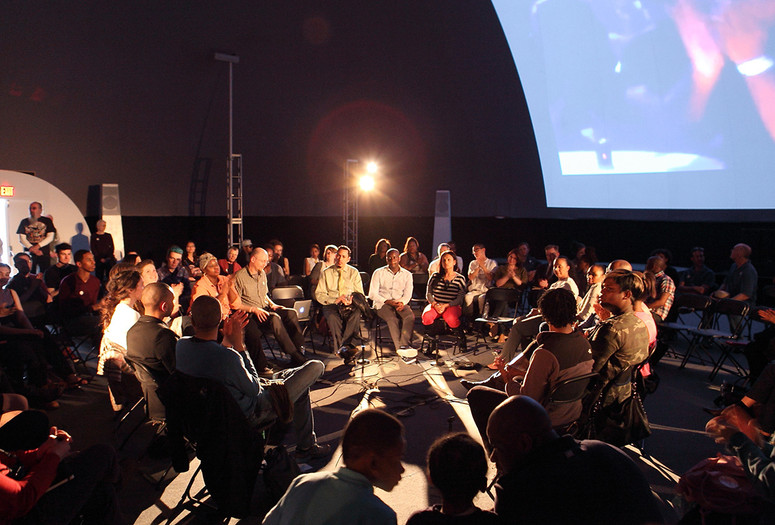 The House and Ballroom Scene Reads – A Discourse of Liberation through W.E.B. Du Bois, Essex Hemphill and Audre Lorde
1:00–3:00 p.m. · VW Dome
In May 2012, members and allies of the NYC House and Ballroom Scene gathered at the Whitney Museum of American Art to respond to the question, "what is the sound of freedom?" The session was guided by a protocol for collective listening composed by the sound-art collective Ultra-red and Michael Roberson, a legendary member of the Scene and co-founder of the House of Garçon. The protocol invited participants to consider the question of freedom within the context of the Ballroom Scene, particularly how it registers and responds to the intersecting oppressions of race, class, and gender. Brother to Brother to Sister Outsider continues this investigation by bringing members of the Ballroom scene into dialogue with representatives of other movements and fields of study concerned with liberation.
This event continues the collaboration between Arika, the Vogue'ology Collective, and Ultra-red.
Laurel Nakadate presents an Open Confession in Conjunction with the Publication of 365 DAYS: A Catalogue of Tears
4:00–6:00 PM · VW Dome
In celebration of the publication of her book 365 DAYS: A Catalogue of Tears, Laurel Nakadate invites everyone who reads these lines to come to MoMA PS1 to confess, detail, and atone for shameful acts of the past. These public apologies will stand in for more intimate acts of apology for the time being, and may result in feelings of well-being and relief for those who have been carrying around burdens, great and small.
Come all and participate in a private ritual made public, whether as a confessor or audience member. If you would like to come to the podium for a specific apology (three minutes or less), please e-mail [email protected]
Sunday Sessions is a weekly presentation of performance, moving images, dance, music, and discursive programs. Its mission is to embrace live arts as an integral aspect of contemporary practice and ask how art forms, which unfold in the here and now, produce specific ways of thinking and useful means to engage with the broader world. Every Sunday different artists, curators, thinkers and a range of other cultural agents are invited to share their latest projects and ideas with the MoMA PS1 audience.
Sunday Sessions is made possible by MoMA's Wallis Annenberg Fund for Innovation in Contemporary Art through the Annenberg Foundation.

The VW Dome at MoMA PS1 is made possible by a partnership with Volkswagen of America.