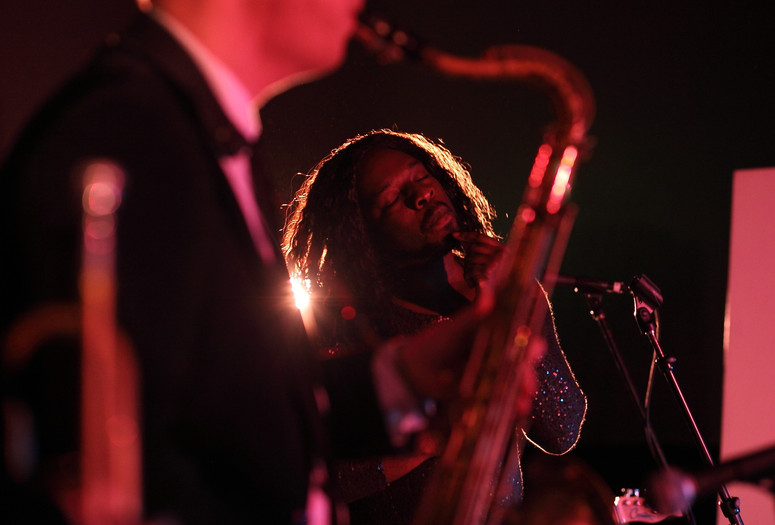 Romantic Loner, a new work by Kalup Linzy
4:00 p.m. · VW Dome
Kalup Linzy presents the live performance component of his new transmedia work Romantic Loner which additionally encompasses a feature film, two shorts, prints, and an album. Romantic Loner tells the story of Linzy's alter ego, Kaye, who, after a series of failed relationships, attends an artist residency and soul searches. For Sunday Sessions, Linzy performs original songs accompanied by a six piece band and video projections, including Man Pussy, Chest Full of Tears, and Kaye's Theme (OK), along with cover tunes by The Chi-Lites, Whitney Houston and his old favorite, Chewing Gum.
This event is co-sponsored by the Tribeca Film Institute.
Artbook @ MoMA PS1 presents Heide Hatry: Not A Rose Book launch and discussion with Avital Ronell, Steven Pinker and others
3:00–4:30 p.m. · Lobby
When a Cow Vagina Becomes a Flower, artist Heide Hatry's newest body of work, explores humanity's destruction of nature and its treatment of animals. Hatry explains, "Humans eat animals. The inedible or unexploitable parts are just thrown away. I use that garbage…and transform what we associate with disgust into objects of beauty." Join us for a discussion with Hatry, Avital Ronell, Steven Pinker, Dale Jamieson, and Linda Weintraub, moderated by Thyrza Nichols Goodeve, a reading of Lucy Lippard's contribution, and the premier of an excerpt from the documentary film Not a Rose.
Sunday Sessions is a weekly presentation of performance, moving images, dance, music, and discursive programs. Its mission is to embrace live arts as an integral aspect of contemporary practice and ask how art forms, which unfold in the here and now, produce specific ways of thinking and useful means to engage with the broader world. Every Sunday different artists, curators, thinkers and a range of other cultural agents are invited to share their latest projects and ideas with the MoMA PS1 audience.
Sunday Sessions is made possible by MoMA's Wallis Annenberg Fund for Innovation in Contemporary Art through the Annenberg Foundation.

The VW Dome at MoMA PS1 is made possible by a partnership with Volkswagen of America.