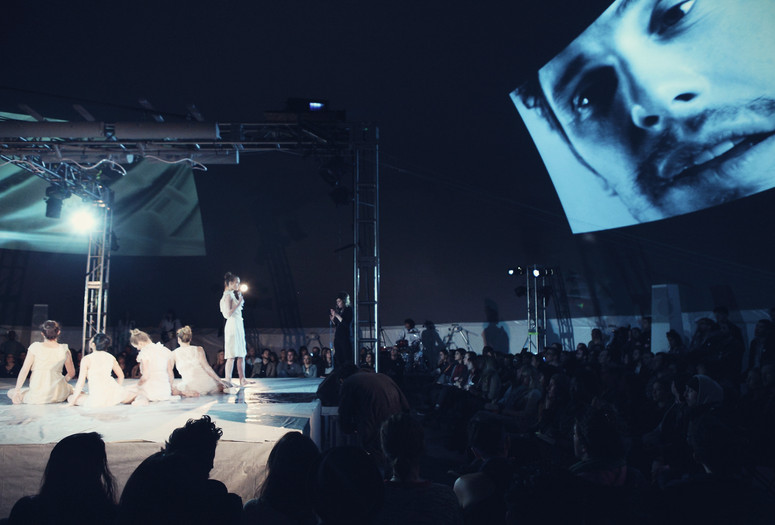 Bird Shit, a multimedia performative work
2 p.m. · VW Dome
5 p.m. · VW Dome
Inspired by Chekhov's The Seagull with elements of Ginsberg's Kaddish, Bird Shit is a multimedia performance piece that combines theater, dance, video, live and prerecorded music, and a few surprise elements. The Seagull, one of Chekhov's most celebrated plays, follows: the romance, conflicts and follies of a playwright, Treplev; Nina, an aspiring starlet; Trigorin, a famous writer; and Treplev's mother Arkadina, a fading actress. Inserted into the performance, is Kaddish, a reflection on mourning. The combination of both works culminates in an experience contemplating on questions of love, art and death.
Bird Shit is produced by Shruti Ganguly and Anna Kooris. The production is commandeered by artist and musician, Nina Ljeti, choreographer, Chloe Kernaghan, and NYU Graduate Film students Joshua Richards, Zach Kershberg and Tine Thomasen, under the guidance of James Franco.
Sunday Sessions is a weekly presentation of performance, moving images, dance, music, and discursive programs. Its mission is to embrace live arts as an integral aspect of contemporary practice and ask how art forms, which unfold in the here and now, produce specific ways of thinking and useful means to engage with the broader world. Every Sunday different artists, curators, thinkers and a range of other cultural agents are invited to share their latest projects and ideas with the MoMA PS1 audience.
Sunday Sessions is made possible by MoMA's Wallis Annenberg Fund for Innovation in Contemporary Art through the Annenberg Foundation.

The VW Dome at MoMA PS1 is made possible by a partnership with Volkswagen of America.