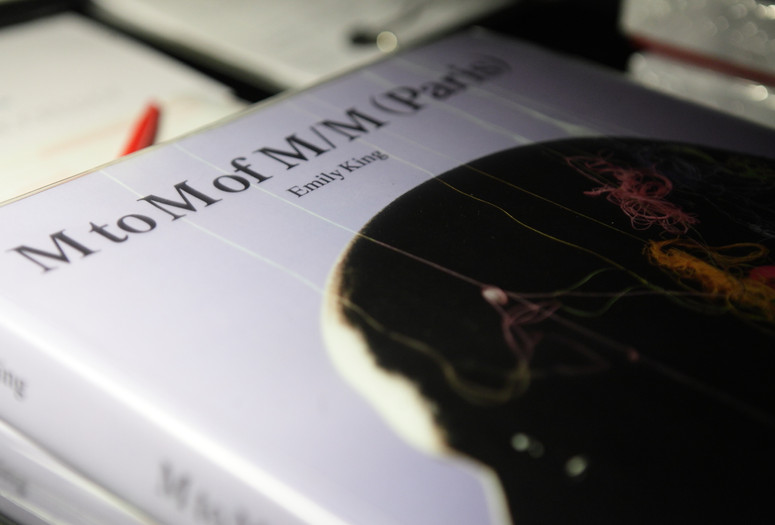 SCHEDULE
12:00–3:00 p.m. · Mårten Spångberg: The Dancing Seminar: A Listening Dance
3:00–4:30 p.m. · Visualizing Trauma: A Panel Discussion and Book Signing
4:00–6:00 p.m. · The launch of M to M of M/M (Paris)
5:00–6:00 p.m. · MASKS
The launch of M to M of M/M (Paris), hosted by Glenn O'Brien and featuring Liam Gillick, Sarah Morris and Inez van Lamsweerde & Vinoodh Matadin
4:00–6:00 p.m. · VW Dome
On the occasion of the launch of M to M of M/M (Paris), Sunday Sessions celebrates the highly influential design duo consisting of Michaël Amzalag and Mathias Augustyniak. The 528-page monograph presents 20 years of emblematic design practices and creative partnerships with the biggest talents in art, music, and fashion; among them Björk, Balenciaga, Givenchy, Pierre Huyghe, Hans Ulrich Obrist, Philippe Parreno, Yohji Yamamoto and many more. The afternoon is hosted by Glenn O'Brien and will give an overview over M/M' s oeuvre and focus on the collaborations with Liam Gillick, Sarah Morris, and Inez van Lamsweerde & Vinoodh Matadin. A screening of the 2004 short film, Antigone Under Hypnosis, directed by M/M and based upon Tomaso Traetta's opera Antigona, follows the discussion.
Mårten Spångberg continues The Dancing Seminar: A Listening Dance, a series of 12 lectures on dance and choreography
12:00–3:00 p.m. · Duplex
The Dancing Seminar: A Listening Dance combines the theoretical nuances of a seminar with the affective qualities of dance, linking reason and reflection with the sensual and intuitive. In 12 three-hour long sessions Spångberg addresses topics thoroughly embedded in movement, dance and choreography and simultaneously attempts to place these in the broader contexts of labor, engagement, urgency, economy and politics. Rather than expanding notions of choreography, this series explores the possibilities of thought through dance and the concept of dance as a practice of truth. This series of seminars is co-hosted with Movement Research.
Artbook @ MoMA PS1 presents Visualizing Trauma, a panel discussion and book signing with Daylight Books
3:00–4:30 PM · Duplex
Artbook @ MoMA PS1 is pleased to present Visualizing Trauma, a panel discussion and book signing in celebration of Spring 2013 publications from Daylight Books, an independent non-profit art and photography publisher.
Moderated by Fred Ritchin, professor of Photography and Imaging at the Tisch School of the Arts, and co-director of the NYU/Magnum Foundation Photography and Human Rights educational program, the panel will include photographers Brett Van Ort, Elin O'Hara Slavick and Jeff Jacobson, who will address the role of documentary photography as a medium to bear witness to the world while reflecting the practitioner's perception of reality.
MASKS
5:00–6:00 p.m. · Duplex
Sunday Sessions presents the live debut of New York City duo MASKS. Comprised of Alexis Georgopoulos and Max Ravitz the group's sound is made almost exclusively with analog synthesizers and drum machines and takes in the breadth of underground dance music history, drawing on Detroit Techno, Chicago House, Minimal Techno, Acid, Cosmic and Italo. Georgopoulos may be better known as Arp (Smalltown Supersound/RVNG Intl). Ravitz has recently shared bills with Steve Summers (L.I.E.S./Future Times) and Terekke (L.I.E.S.)
Album Cover art by Matt Connors.
Sunday Sessions is a weekly presentation of performance, moving images, dance, music, and discursive programs. Its mission is to embrace live arts as an integral aspect of contemporary practice and ask how art forms, which unfold in the here and now, produce specific ways of thinking and useful means to engage with the broader world. Every Sunday different artists, curators, thinkers and a range of other cultural agents are invited to share their latest projects and ideas with the MoMA PS1 audience.
Sunday Sessions is made possible by MoMA's Wallis Annenberg Fund for Innovation in Contemporary Art through the Annenberg Foundation.

The VW Dome at MoMA PS1 is made possible by a partnership with Volkswagen of America.