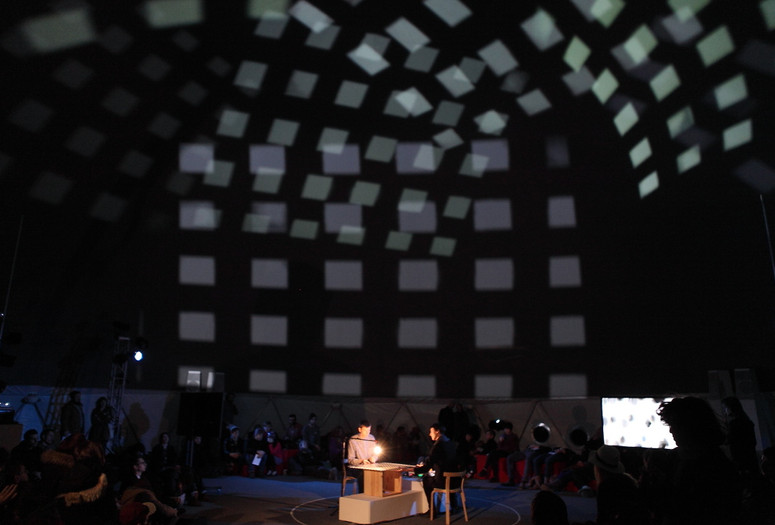 lucky dragons present their Ongoing Performance Project Actual Reality
12:00–6:00 p.m. · VW Dome
Throughout the day, lucky dragons perform the ongoing performance series, Actual Reality, four times, with unstructured free time in between. Actual Reality models and explores transitional states—between margins and center, voice and language, images and experience, actions and memory. The day-long occupation makes use of auditory illusions, moiré patterns, sung texts and synthesized voices, treating the VW Dome as a focused and patient site for examining how to become comfortable with complexity. Patterned, perceptual videos, along with specially-designed musical instruments, illuminate the production of meaningful forms through repetition, interference, and change.
lucky dragons is an ongoing collaboration between Los Angeles-based artists Sarah Rara and Luke Fischbeck. They are known for their participatory approach to making music, radically inclusive live shows, and playful, humanistic use of digital tools.
Mårten Spångberg continues The Dancing Seminar: A Listening Dance, a series of 12 lectures on dance and choreography
12:00–3:00 p.m. · Duplex
Swedish choreographer, Mårten Spångberg, returns to MoMA PS1 with a six-week long lecture series. The Dancing Seminar: A Listening Dance combines the theoretical nuances of a seminar with the affective qualities of dance, linking reason and reflection with the sensual and intuitive. In 12 three-hour long sessions Spångberg addresses topics thoroughly embedded in movement, dance and choreography and simultaneously attempts to place these in the broader contexts of labor, engagement, urgency, economy and politics. Rather than expanding notions of choreography, this series explores the possibilities of thought through dance and the concept of dance as a practice of truth. This series of seminars is co-hosted with Movement Research.
Sunday Sessions is a weekly presentation of performance, moving images, dance, music, and discursive programs. Its mission is to embrace live arts as an integral aspect of contemporary practice and ask how art forms, which unfold in the here and now, produce specific ways of thinking and useful means to engage with the broader world. Every Sunday different artists, curators, thinkers and a range of other cultural agents are invited to share their latest projects and ideas with the MoMA PS1 audience.
Sunday Sessions is made possible by MoMA's Wallis Annenberg Fund for Innovation in Contemporary Art through the Annenberg Foundation.

The VW Dome at MoMA PS1 is made possible by a partnership with Volkswagen of America.