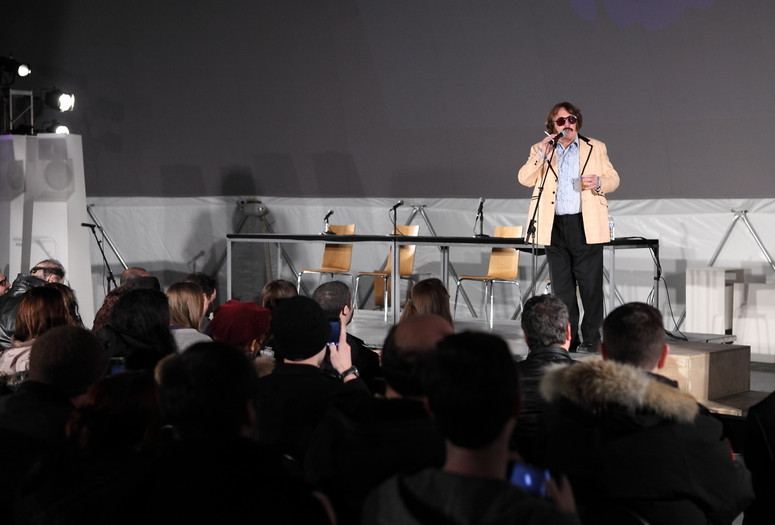 SCHEDULE
12:00–3:00 p.m. · Mårten Spångberg: The Dancing Seminar: A Listening Dance
1:00 p.m. · Dear Andy Kaufman, I Hate Your Guts! with Lynne Margulies
2:00–3:30 p.m. · Panel Discussion on The Andy Kaufman Effect
3:30–6:00 p.m. · East Coast Premiere of Tony Clifton: The Movie
4:00–6:00 p.m. · Lunar New Year Celebration with CONFETTISYSTEM and Gather journal
*Dear Andy Kaufman, I Hate Your Guts!* with Lynne Margulies
1:00 p.m. · VW Dome
In 1977, Andy Kaufman challenged the women of America to beat him in the wrestling ring. The publication Dear Andy Kaufman: I Hate Your Guts! presents the incredulous, angry, passionate letters and photos from the ladies ready to take him on. Kaufman's former girlfriend, Lynne Margulies, discusses his brief but illustrious career as "Intergender Wrestling Champion of the World" and presents a treasure trove of video rarities including recently unearthed wrestling footage.
Panel Discussion on *The Andy Kaufman Effect: Comedy in the Expanded Field*
2:00–3:30 p.m. · VW Dome
Organized and moderated by curator Miriam Katz, this panel will explore the legacy of groundbreaking comedian Andy Kaufman. Panelists Tim Heidecker (Tim and Eric Awesome Show, Great Job!, The Comedy), T.J. Miller (Cloverfield, Comedy Central), and Brent Weinbach (Conan, 2007 Andy Kaufman Award) will discuss Kaufman's influence on their work and the role of innovation and experimentation in contemporary comedy.
East Coast premiere of Tony Clifton: The Movie with a live appearance by Tony Clifton
3:30–6:00 p.m. · VW Dome
After the passing of Andy Kaufman in 1984, there were those who believed that he had actually faked his death and continued to perform as his alter ego, lounge lizard Tony Clifton. Those rumors were further fueled by Academy Award winning director Milos Forman's film Man On The Moon starring Jim Carrey as Kaufman. Things got even stranger when last year Clifton performed sold out shows in Los Angeles with the most hilariously heinous, politically incorrect act imaginable. We don't know if Tony is Tony, Andy, or somebody else altogether. We do know he's one of the best goddamn performers you'll find.
This Sunday Sessions, devoted to the work of Andy Kaufman, is presented in conjunction with the exhibition On Creating Reality, by Andy Kaufman at Maccarone Inc. and the screening series, Andy Kaufman's 99cent Tour, both of which are organized by artist Jonathan Berger.
Mårten Spångberg continues The Dancing Seminar: A Listening Dance, a series of 12 lectures on dance and choreography
12:00–3:00 p.m. · Duplex
The Dancing Seminar: A Listening Dance combines the theoretical nuances of a seminar with the affective qualities of dance, linking reason and reflection with the sensual and intuitive. In 12 three-hour long sessions Spångberg addresses topics thoroughly embedded in movement, dance and choreography and simultaneously attempts to place these in the broader contexts of labor, engagement, urgency, economy and politics. Rather than expanding notions of choreography, this series explores the possibilities of thought through dance and the concept of dance as a practice of truth. This series of seminars is co-hosted with Movement Research.
LUNAR NEW YEAR CELEBRATION with CONFETTISYSTEM and Gather journal
4:00–6:00 p.m. · Duplex
CONFETTISYSTEM and Gather journal welcome the Year of the Snake with food, mahjong, and music provided by DJ Tim and Gary. The event takes place within CONFETTISYSTEM: 100 Arrangements.
Sunday Sessions is a weekly presentation of performance, moving images, dance, music, and discursive programs. Its mission is to embrace live arts as an integral aspect of contemporary practice and ask how art forms, which unfold in the here and now, produce specific ways of thinking and useful means to engage with the broader world. Every Sunday different artists, curators, thinkers and a range of other cultural agents are invited to share their latest projects and ideas with the MoMA PS1 audience.
Sunday Sessions is made possible by MoMA's Wallis Annenberg Fund for Innovation in Contemporary Art through the Annenberg Foundation.

The VW Dome at MoMA PS1 is made possible by a partnership with Volkswagen of America.