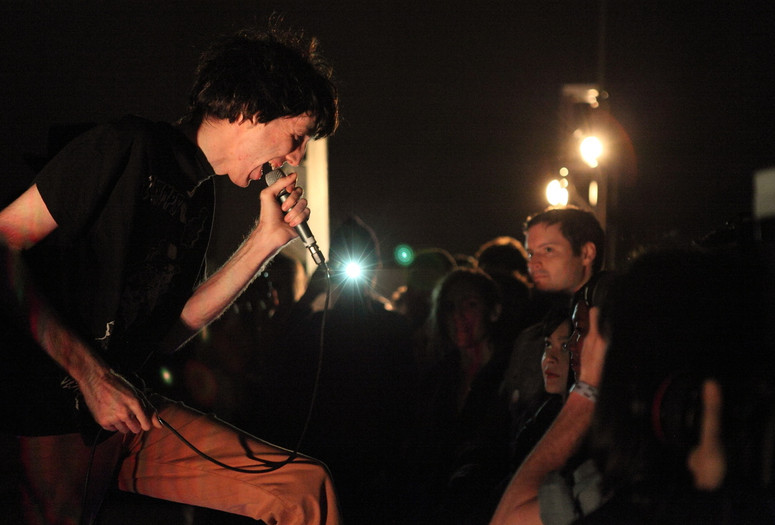 SCHEDULE
12:00–2:00 p.m. · Mårten Spångberg: The Dancing Seminar: A Listening Dance
2:00–3:00 p.m. · Mårten Spångberg: Dance of the Angels
3:00–6:00 p.m. · Vanity Projects Pop-up Nail Salon
4:00–6:00 p.m. · Youth Museum premiere, performances by DIIV and Bradford Cox
Premiere of Youth Museum and Performances by DIIV and Bradford Cox
4:00–6:00 p.m. · VW Dome
Riot of Perfume magazine presents the premiere of Youth Museum, a short film by Grant Singer. The experimental film, shot on VHS, focuses on the physical spaces and everyday life of musician Bradford Cox, who is best known for his work as lead singer and guitarist of the psychedelic and ambient band Deerhunter. The Atlanta-based Cox also pursues a solo career under the name Atlas Sound. Grant Singer, the film's director, is known for his atmospheric, experimental music videos, and is the creator of the much anticipated film IRL, starring Genesis Breyer P-Orridge, Sky Ferreira, and Damien Echols.
Following the screening, Cox will perform an improvised set. New York-based rock band DIIV, known for infusing English dream pop with a grunge sensibility, will open for Cox.
Mårten Spångberg launches The Dancing Seminar: A Listening Dance, a series of 12 lectures on dance and choreography
12:00–2:00 PM · Duplex
Swedish choreographer, Mårten Spångberg, returns to MoMA PS1 with a six-week long lecture series. The Dancing Seminar: A Listening Dance combines the theoretical nuances of a seminar with the affective qualities of dance, linking reason and reflection with the sensual and intuitive. In 12 three-hour long sessions Spångberg addresses topics thoroughly embedded in movement, dance and choreography and simultaneously attempts to place these in the broader contexts of labor, engagement, urgency, economy and politics. Rather than expanding notions of choreography, this series explores the possibilities of thought through dance and the concept of dance as a practice of truth. This series of seminars is co-hosted with Movement Research.
Mårten Spångberg: *Dance of the Angels*
2:00–3:00 PM · VW Dome
"All visitors are invited to a public dance, a dance that welcome all ages, bodies, abilities and styles to produce a dance on its own terms. Dance of the Angels is a dance that celebrates the diversity and fluidity of a dance wherein the dancers are not enslaved to choreography but rather move unconditionally. In Dance of the Angels the audience dances and the performers take a look, where the inside and outside exchange places to a soundtrack that makes our booties shake. It is not an angelic dance but a dance of the angels." —Mårten Spångberg
Vanity Projects Pop-Up Nail Salon
3:00–6:00 PM · Duplex
Vanity Projects are installing a pop-up nail salon at MoMA PS1 within CONFETTISYSTEM's 100 Arrangements installation. Get cutting edge manicures from celebrity nail artists. Appointments are first come first served.
Manicures start at $50
Sunday Sessions is a weekly presentation of performance, moving images, dance, music, and discursive programs. Its mission is to embrace live arts as an integral aspect of contemporary practice and ask how art forms, which unfold in the here and now, produce specific ways of thinking and useful means to engage with the broader world. Every Sunday different artists, curators, thinkers and a range of other cultural agents are invited to share their latest projects and ideas with the MoMA PS1 audience.
Sunday Sessions is made possible by MoMA's Wallis Annenberg Fund for Innovation in Contemporary Art through the Annenberg Foundation.

The VW Dome at MoMA PS1 is made possible by a partnership with Volkswagen of America.