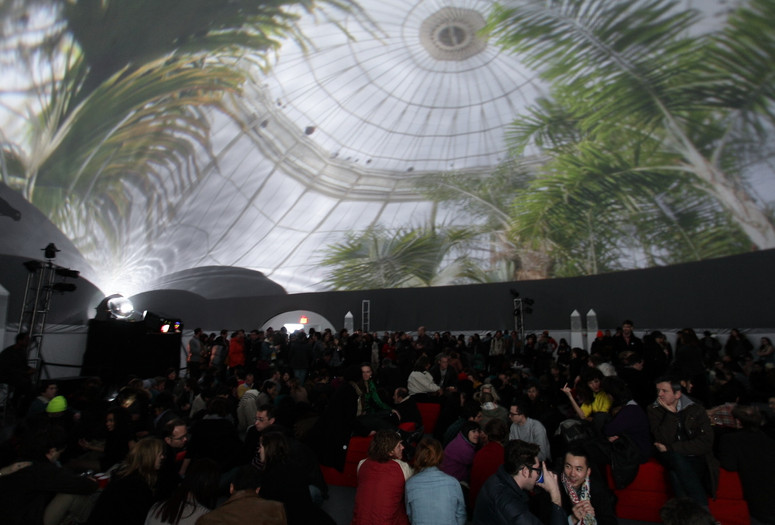 Join us on January 20 for our Winter Open House to celebrate the opening of Cyprien Gaillard: The Crystal World, Ed Atkins, Metahaven: Islands in the Cloud, Jeff Elrod: Nobody Sees Like Us and CONFETTISYSTEM: 100 Arrangements. The opening celebration includes a program hosted by Gaillard, a performance by Atkins, a cash bar, and delicious eats provided by M. Wells.
SCHEDULE
2:00 p.m. · Launch of CLOG's latest issue
3:00 p.m. · DEPRESSION, performance by Ed Atkins
4:00 p.m. · Cyprien Gaillard presents Egyptian Lover and Salem DJ set
Cyprien Gaillard presents Egyptian Lover and Salem DJ set
4:00 p.m. · VW Dome
On the occasion of the opening of his first New York solo show, Cyprien Gaillard invites West Coast rap pioneer Egyptian Lover and special guests to bridge the distance between Los Angeles' Watts Towers and the Temples of Abu Simbel, all under the roof of MoMA PS1's geodesic dome, in a celebration of both artists' mutual fascination with anachronism. In his work, Gaillard combines elements of the found, the photographic, the cinematic, the architectural, and the social to provoke visual or associative connections between ancient ruins and neglected contemporary spaces.
*DEPRESSION*, performance by Ed Atkins
3:00 p.m. · Drawing Gallery (N101 · 1st FLR)
In conjunction with the opening of his exhibition at MoMA PS1, Ed Atkins presents a performance piece called Depression, about death, bodies, and disintegrating matter. Known for his high-definition videos that defy standard narrative conventions, Ed Atkins works with filmic and text-based forms in technological transition. For Atkins, HD images are otherworldly. Since they are recorded to a hard drive and not onto film, they are not tied to any physical medium. Because of HD's virtualized form, Atkins considers this recent technology deathlike, a bodiless movie format.
Artbook @ MoMA PS1 presents *Launch of CLOG : NATIONAL MALL: The Future of the Memorial*
2:00 p.m. · Duplex
CLOG's most recent issue focuses on the National Mall in Washington, D.C. The Mall functions as a place of protest and celebration, as well as a place of memorialization and education. As we are currently in an era of significant memorial building in New York and elsewhere the issue focuses on the future of the memorial—how do they integrate technology, how long should they last, who are they built for, what is their educational or healing role, and what is their aesthetic? CLOG will host a conversation between contributors Paul Broches, Nicholas McDermott, and Nicholas Benson, and monument expert Lucia Allais.
Sunday Sessions is a weekly presentation of performance, moving images, dance, music, and discursive programs. Its mission is to embrace live arts as an integral aspect of contemporary practice and ask how art forms, which unfold in the here and now, produce specific ways of thinking and useful means to engage with the broader world. Every Sunday different artists, curators, thinkers and a range of other cultural agents are invited to share their latest projects and ideas with the MoMA PS1 audience.
Sunday Sessions is made possible by MoMA's Wallis Annenberg Fund for Innovation in Contemporary Art through the Annenberg Foundation.

The VW Dome at MoMA PS1 is made possible by a partnership with Volkswagen of America.