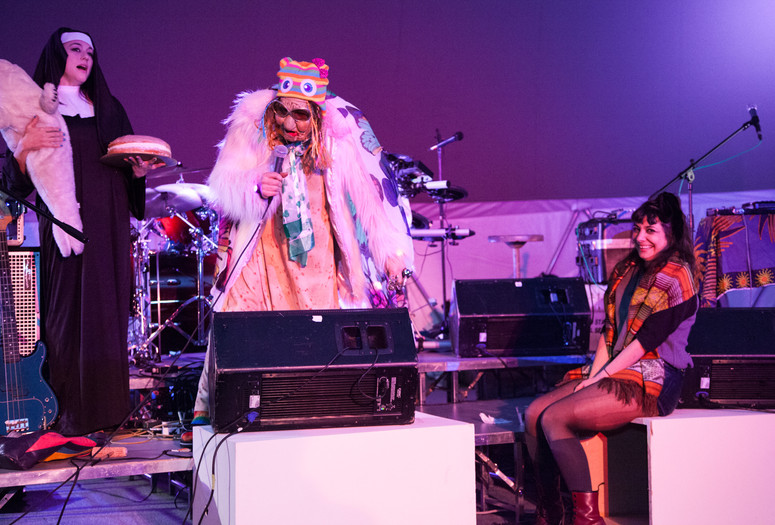 Capricorneous I.U.D. Birthday Party for LZA aka Bumpy the Clown, featuring Visuals by Danny Perez and Rodan Tekle
4:00–6:00 p.m.
You are invited to a party hosted by hyper-feminist vamps infused with industrial metal and nuances of experimental music. Lizzi Bougatsos of Gang Gang Dance and Sadie Laska of Growing and Extreme Violence present their collaborative project I.U.D. Their last album, The Proper Sex, is a visceral mass of layered drums, abrasive screams, syncopated noise and animalistic black metal overtones all accentuated by Bougatsos's caterwauling vocals. I.U.D will perform alongside fellow musicians Eye Banker, Dutch E Germ and Josh Diamond and the party will feature a special Cake performance by Mindy Vale as well as a surprise Birthday Song Guest.
*Tom Tom* Magazine & Mindy Abovitz present:
The Oral History of Female Drummers
3:00 p.m.
Artbook @ MoMA PS1 is pleased to present our second event organized with Tom Tom Magazine, the only print magazine in the world about female drummers. Join us for a performance with women drummers, spread throughout the museum's floors, engaging in a call and response. Drummers include Tom Tom Magazine founder/editor Mindy Abovitz, and musicians Kristin Mueller (of The Caulfield Sisters, Lucinda Black Bear, Christy & Emily), Sean Desiree (of Bell's Roar), and Chloe Saavedra (Chaos Chaos, Smoosh). Beats will be passed from drummer to drummer via award winning beatboxer Ashley "Say Wut?!" Moyer. The performers will play on painted drum heads with sticks by the artist Itta, created so that they will be chipping away at their own histories.
Sunday Sessions is a weekly presentation of performance, moving images, dance, music, and discursive programs. Its mission is to embrace live arts as an integral aspect of contemporary practice and ask how art forms, which unfold in the here and now, produce specific ways of thinking and useful means to engage with the broader world. Every Sunday different artists, curators, thinkers and a range of other cultural agents are invited to share their latest projects and ideas with the MoMA PS1 audience.
Sunday Sessions is made possible by MoMA's Wallis Annenberg Fund for Innovation in Contemporary Art through the Annenberg Foundation.

The VW Dome at MoMA PS1 is made possible by a partnership with Volkswagen of America.