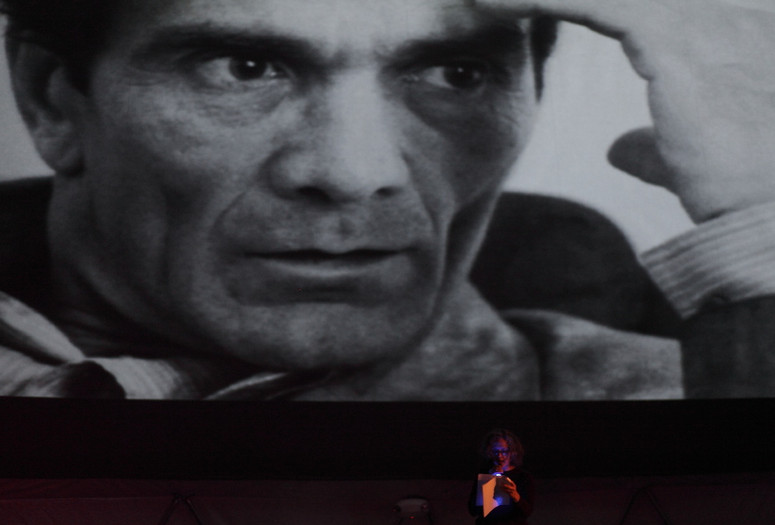 On the occasion of the MoMA retrospective Pier Paolo Pasolini, Sunday Sessions presents a live program focusing on Pasolini as a poet, writer, activist, and public figure embedded in the collective consciousness of postwar Italy.
In 1975, just months before the director's mysterious death, artist Fabio Mauri (b. Rome, 1926 –2009) created a work about Pasolini's double role as artist and public personality. For Intellettuale, Mauri projected Pasolini's The Gospel According to Matthew (1964) onto the director's torso, turning him into a public screen. Using Mauri's work as a starting point, contemporary artists present, perform, screen, and read material that reflect on Pasolini as an artist and intellectual who was deeply committed to social and political change.
SCHEDULE
3:00 p.m.
Fabio Mauri, Intellettuale (1975)
Installation with Pasolini's The Gospel According to Matthew.
(Film starts at 1:15 p.m.)
3:30 p.m.
Alfredo Jaar, Le Ceneri di Pasolini, The Ashes of Pasolini (2009)
Video essay on Pasolini's radical life.
4:15 p.m.
Paul Chan, A Harlot's Progress (2012)
Text on Pasolini's artistic influence read by Wooster group actress Kate Valk.
4:30 p.m.
Barbara Hammer, Witness: Palestine (2012)
Multimedia performance inspired by Fabio Mauri's Intellettuale.
5:00 p.m.
Lovett/Codagnone, Tribute to PPP: "WE KNOW" (2012)
A performance by Lovett/Codagnone and Emi Fontana featuring Pasolini actor, Ninetto Davoli.
Sunday Sessions is a weekly presentation of performance, moving images, dance, music, and discursive programs. Its mission is to embrace live arts as an integral aspect of contemporary practice and ask how art forms, which unfold in the here and now, produce specific ways of thinking and useful means to engage with the broader world. Every Sunday different artists, curators, thinkers and a range of other cultural agents are invited to share their latest projects and ideas with the MoMA PS1 audience.
Sunday Sessions is made possible by MoMA's Wallis Annenberg Fund for Innovation in Contemporary Art through the Annenberg Foundation.

The VW Dome at MoMA PS1 is made possible by a partnership with Volkswagen of America.