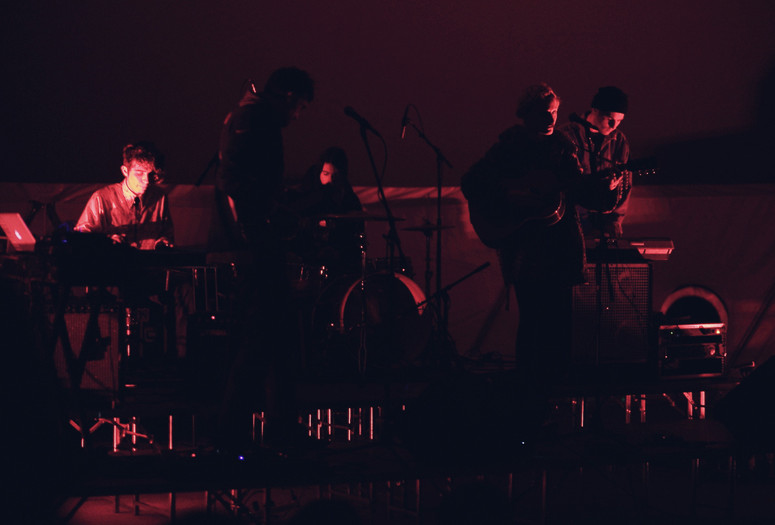 SCHEDULE
2:00–3:00 p.m. · A Short Course on Resistance
3:00–6:00 p.m. · Riot of Perfume magazine program
4:00–5:30 p.m. · Tom Tom Magazine event
*Riot of Perfume* magazine presents a day of collaborative performances and experimental films
Featuring Tom Roy, Grant Singer, Adam Jones, Gambles, and the record release of STARRED's debut EP, Prison to Prison
3:00–6:00 p.m. · VW Dome
SCHEDULE
3:00–3:45 p.m. · DJ Tom Roy
3:45–4:30 p.m. · Gambles
4:30–5:15 p.m. · STARRED
5:30–6:00 p.m. · Genesis Breyer P-Orridge
Riot of Perfume magazine presents an evening of collaborative performances including the record release of STARRED's debut EP, Prison to Prison. Despite comparisons to the likes of Mazzy Star, Rain Parade, Spiritualized and Opal, STARRED (Liza Thorn & Matthew Koshak) creates a sound all its own: "a perverted love of both Americana music and ambient noise—a music of negative spaces, made by really intense people." Jointly featured is the debut performance of the singer/songwriter Matthew Daniel Siskin – aka Gambles—whose first (and thus far only) released track "Trust," presents a dark, folk-music sound and grainy rawness. Paris/NYC-based DJ Tom Roy opens the performance, accompanied by projections of experimental films by director Grant Singer, and artist Adam Jones. A reading by a special guest is scheduled. The performances will conclude with a recital of new poetry by Genesis Breyer P-Orridge.
Artbook @ MoMA PS1 presents a Tom Tom Magazine event: The Power and Politics of Music and Media
4:00–5:30 p.m. · Mini Kunsthalle
Artbook @ MoMA PS1 is pleased to present a panel discussion organized by Tom Tom Magazine, the only print magazine in the world about female drummers. The magazine's founder/editor Mindy Abovitz will moderate a discussion of media makers and media shakers with panelists Peter Ferraro of East Village Radio, Andre Torres of Wax Poetics magazine, musician Yuka C. Honda, and artist/musician Lisa Lipton. The panel will consider the past, present and future of the political nature of music and how it is or isn't represented in the media, touching on the future of print, the direction of web based media and the new ways we navigate ethics and authenticity on the Internet. A Q&A will follow the panel.
A Short Course on Resistance* presented by Art Comments
2:00–3:00 p.m. · Mini Kunsthalle
Join A Short Course on Resistance as the book club discusses Claire Bishop's Artificial Hells: Participatory Art and the Politics of Spectatorship. For more details, please e-mail [email protected]
A Short Course on Resistance is a multidisciplinary exhibition comprised of a book club, lectures, and video screenings curated by Peter Duhon.
Sunday Sessions is a weekly presentation of performance, moving images, dance, music, and discursive programs. Its mission is to embrace live arts as an integral aspect of contemporary practice and ask how art forms, which unfold in the here and now, produce specific ways of thinking and useful means to engage with the broader world. Every Sunday different artists, curators, thinkers and a range of other cultural agents are invited to share their latest projects and ideas with the MoMA PS1 audience.
Sunday Sessions is made possible by MoMA's Wallis Annenberg Fund for Innovation in Contemporary Art through the Annenberg Foundation.

The VW Dome at MoMA PS1 is made possible by a partnership with Volkswagen of America.