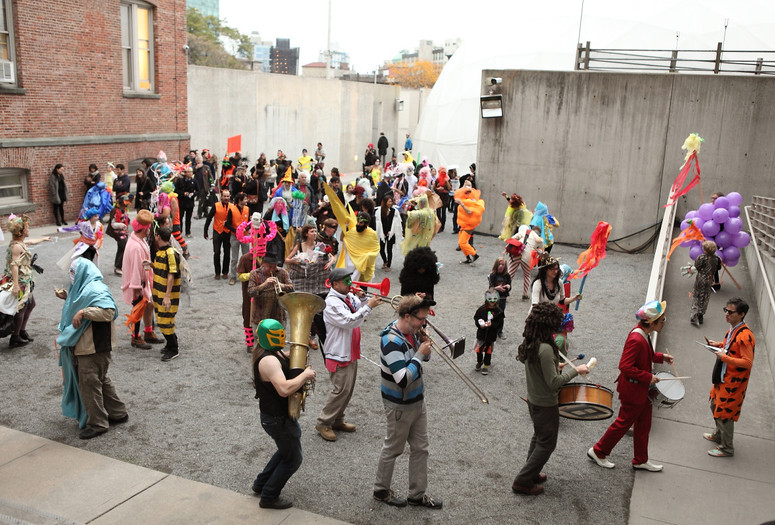 Courtney Love Cobain and Klaus Biesenbach host:
The First Annual Artists' Halloween Carnival and Parade
at MoMA PS1
Presented by Mariah Robertson
SCHEDULE
3:00 p.m. · Artists' Costume Workshop
5:00 p.m. · Costume Parade around MoMA PS1 with Bloco Gumbo
Before 6:00 p.m. · Costume Contest
Artists' Costume Workshop
3:00 p.m. · VW Performance Dome
Come make, or accent, your Halloween costume with the help of artists: Hrafnhildur Arnardottir aka Shoplifter, Michel Auder, Paololuca Barbieri, Gina Beavers, Phillip Birch, Sean Bluechel, Tom Brauer, Ike Brooker, Alexandra Butler, Kristen Chappa, Samuel Clagnaz, Chris Cobb, Jean Coleman, Matthew Connors, Annabel Daou, Jen DeNike, Lauren Devine, Brian Droitcour, Jennifer Dudley, Jonathan Ehrenberg, Debo Eilers, Jared Friedman, Micah Ganske, Brandy Godsil, R.E.H. Gordon, Dave Hardy, Anna Harrah, Tommy Hartung, Jodie Vicenta Jacobson, Sameer Kapoor, Nanse Kawashima, Deana Lawson, Michael Mahalchick, Ken Miller, Johnny Misheff, Jessica Mitrani, Sahra Motalebi, Sam Moyer, Miriam Katz, Ryan Kitson, Josh Kline, Justin Lieberman, Peter Mandrajieff, Yuri Masnyj, S.E. Nash, Liam O'Rourke, Clifford Owens, Eri Nagasaka, Kristine Pilgaard, Lisi Raskin, Colette Robbins, Mika Rottenberg, Harriet Salmon, Jon Santos, Shabd, Simon-Alexander, Jessica Slaven, Joshua Smith, Taavo Somer, Mårten Spångberg, Laura Splan, Jeffrey Tranchell, Kon Trubkovich, Abbey Williams, Nicholas Williams, Lindsey Winkel, Pinar Yolacan, Kevin Zucker
Spooky Inspiration Videos by Ryan McNamara, Samuel Clagnaz, Michael Stickrod & Anne Eastman
Costume Parade Around MoMA PS1 with Caribbean Marching Band Bloco Gumbo
5:00 p.m.
Costume Contest
Before 6:00 p.m.
With judges Courtney Love Cobain and Klaus Biesenbach
Costume categories inspired by the Seven Deadly Sins:
LUST - Everybody seems to love it!
GLUTTONY - Best group costume!
GREED - Best low budget inspiration!
SLOTH - You pig! You filthy pig! You capitalist pig!
WRATH - Oh no scariest! Most socially inappropriate!
ENVY – Or, Celebrity look-alike!
PRIDE of lions! - Best animal or beast!
---
*A Short Course on Resistance* presented by Art Comments
3:00–4:00 p.m.
A Short Course on Resistance is an affirmative gesture to create a field of intertextuality that examines notions of resistance and education by recontextualizing the book club as a segment of an exhibition, inclusive of text, authors, contemporary art and philosophy. Curated by Peter Duhon, writer, educator and director of the contemporary art blog Art Comments.
---
Spooky Booky Day at Artbook @ MoMA PS1
3:00 p.m., 4:00 p.m. and 5:00 p.m. · Bookstore
Artbook @ MoMA PS1 invites you and your little ones to join us for Spooky Booky Day, with readings by Andrea Bartunek (in costume) of one of our favorite children's books, Ghost Knigi by Benjamin Sommerhalder. This adorable, limited-edition book written and illustrated by the editor of the super-cool publisher, Nieves, follows a young ghost named Knigi on his quest to learn to read. Readers will not be able to decide which is more endearing: the story–of the ghost's frustrations when his first book will not reveal its secrets, and later his wonder when "A miraculous explosion of colors and shapes leapt out from the pages!"; or Sommerhalder's spot-on illustrations, which are clear, humorous and true in the manner of a modern-day Leo Lionni or Bruno Munari. Perfect for ages 2-7, and all young-at-heart!
This participatory event is free and open to the public, and we invite you to join us to discuss Claire Bishop's Artificial Hells: Participatory Art and the Politics of Spectatorship. Please email [email protected] for more information.
Sunday Sessions is a weekly presentation of performance, moving images, dance, music, and discursive programs. Its mission is to embrace live arts as an integral aspect of contemporary practice and ask how art forms, which unfold in the here and now, produce specific ways of thinking and useful means to engage with the broader world. Every Sunday different artists, curators, thinkers and a range of other cultural agents are invited to share their latest projects and ideas with the MoMA PS1 audience.
Sunday Sessions is made possible by MoMA's Wallis Annenberg Fund for Innovation in Contemporary Art through the Annenberg Foundation.