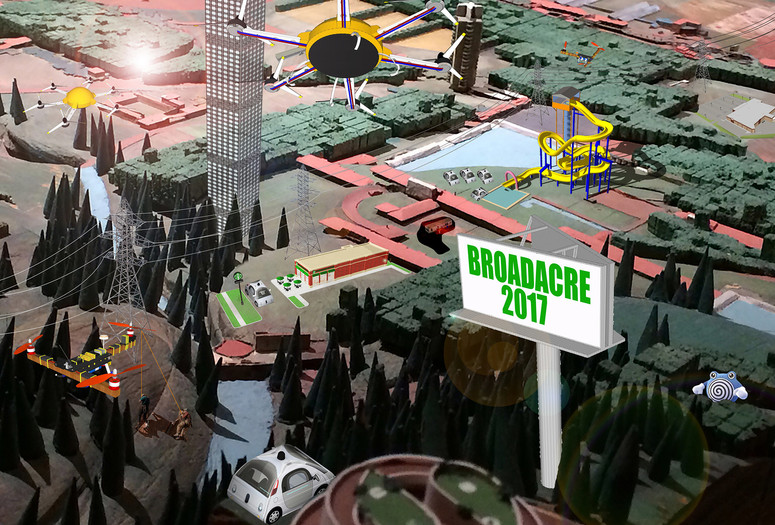 "The hard-rail, the power-, telephone- and telegraph-pole, signboard, the tin-can, the barbed-wire fence.... Any honest search will give you some faint hint of the hideous waste Broadacre City was designed definitely to repudiate…. The scaffolding still destroying our landscape—poles and wires, sign boards, railroad and lumber yards, etc., etc., do not exist in Broadacres."
– Frank Lloyd Wright, The New Frontier: Broadacre City, 1940
In the 1930s Frank Lloyd Wright began publicizing his vision for the modern city, a community where each family would be given at minimum one acre of land. Calling it Broadacre City, Wright and his apprentices created a 12 x 12' model of this imagined society to sell the idea that his urban design would provide a better life with democracy and capitalism. Like many visionary schemes, Broadacre City was defined as much by what it excluded (smoke, wires, and slums) as by what it emphasized (land ownership, distance between buildings, and cars).
Eight decades after the initial Broadacre publicity campaign, the People's Studio invites visitors to re-envision and update this dream-image of US civilization. Rebooted as "Broadacre 2017," this altered replica can now include everything Wright deleted from his city, along with contemporary fantasies, desires, and conditions he never anticipated, such as self-driving cars, McMansions, Pokémon hunting, bike lanes, data centers, Instagram, and drive-thru coffee shops.
In addition to manipulating the Broadacre 2017 Neighborhood Planning Model on their own, visitors are invited to attend workshops led by Damon Rich and Jae Shin, partners in the design studio Hector and designers of the Broadacre 2017 model. At these sessions, participants will work together on the city, updating and critiquing Wright's proposal through collaborative design.
Free with admission. Not appropriate for children under 10. Space is limited and available on a first-come, first-served basis. Sign-up begins half an hour prior to each workshop.
This workshop is led by Damon Rich and Jae Shin.
Hector is an urban design, planning, and civic arts studio whose recent projects include a memorial for an eco-feminist nun, a riverfront park, a 14-foot city model celebrating the 350th anniversary of the founding of Newark, New Jersey, and an experimental exhibition on mortgage finance. Hector's work has been exhibited at the Queens Museum, the Lisbon Architecture Triennale, and the Newark Public Library.
Damon Rich is a designer, visual artist, and partner at Hector. He previously served as planning director and chief urban designer for the City of Newark and is the founder of the Center for Urban Pedagogy (CUP), an internationally recognized nonprofit organization that uses art and design to increase meaningful civic engagement. His work has been recognized by the American Planning Association National Planning Award, the Cooper Hewitt National Design Award, the Loeb Fellowship in Advanced Environmental Studies at the Harvard University Graduate School of Design, the MacDowell Colony, and the United States Pavilion at the 11th International Architecture Exhibition in Venice.
Jae Shin is a partner at Hector whose work combines architecture, urban design, and exhibitions. She recently served as an Enterprise Rose Architectural Fellow at the New York City Housing Authority (NYCHA), where she facilitated efforts to define and implement design principles for preserving and rehabilitating New York City's public housing. She holds degrees from Rhode Island School of Design and Princeton University. Her projects have received support from the MacDowell Colony and the National Endowment for the Arts. Jae has led design studios at New Jersey Institute of Technology and the Harvard Graduate School of Design.