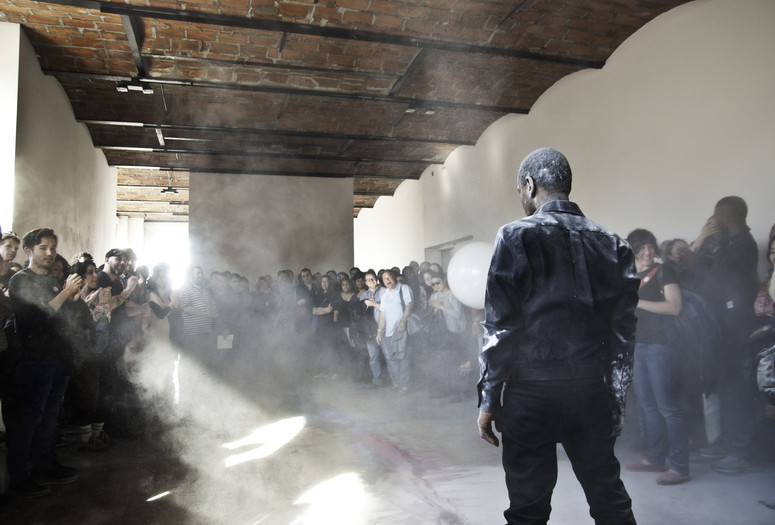 SCHEDULE
12:00–6:00 p.m. – M. Wells grilling station
12:30–4:00 p.m. – Clifford Owens presents an afternoon of performance
3:00–4:00 p.m. – Artbook @ MoMA PS1 presents Niklas Maak on Le Corbusier: The Architect on the Beach
Clifford Owens presents an Afternoon of Performance
12:30–3:00 p.m.
The MoMA PS1 Performance Dome
Derrick Adams, Sherman Fleming, Maren Hassinger, Jacolby Satterwhite, Xaviera Simmons
Clifford Owens
3:00–4:00 p.m.
Mini-Kunsthalle
Artist Clifford Owens presents an afternoon of performances by Derrick Adams, Sherman Fleming, Maren Hassinger, Jacolby Satterwhite, Xaviera Simmons—5 artists who participated in his Anthology exhibition—in the MoMA PS1 Performance Dome. The afternoon will conclude with Owens himself performing several scores from Anthology, his final performance as part of his MoMA PS1 exhibition.
Artbook @ MoMA PS1 presents Niklas Maak on Le Corbusier: The Architect on the Beach
3:00 p.m.
Artbook @ MoMA PS1 and Café
Prominent German art and architecture critic Niklas Maak will give a presentation on the renowned architect Le Corbusier and his relevance today. The talk will be followed by a booksigning of Le Corbusier: The Architect on the Beach, which is available for the first time in English.
Sunday Sessions is supported in part by The Junior Associates of The Museum of Modern Art.