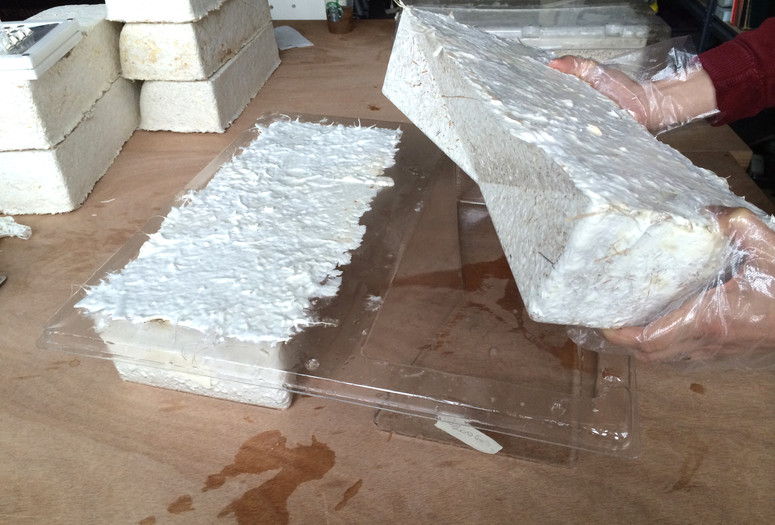 In this two-session workshop participants will work with a new type of sustainable material made from agricultural waste and mycelium, the branching, rootlike structure of mushrooms. Inspired by Frank Lloyd Wright's interest in plant structures and integrating buildings into their natural environments, participants will consider what organic architecture means in the age of biotechnology. In the first session, on September 21, participants will learn about mycelium, how it has been used in architectural projects, and the wider ecological ideas involved. They will then design their own object and create a mold, which will be 3-D printed offsite. In the second session, on September 28, participants will learn how to grow the mycelium material inside their molds and take their objects home. No design, fabrication, or software knowledge is required.
Online registration for this workshop is now full. There will be a first-come, first-served standby line on the day of the event.
Please note that this workshop takes place over two sessions over consecutive weeks. Participants are strongly encouraged to attend both sessions.
Space is limited. Not appropriate for children under 10. Free with museum admission, but a separate ticket, available online beginning August 21, is required. Drop-ins on the day of the program will be accommodated on a first-come, first-served basis in the People's Studio, beginning 30 minutes prior to the start of the program.
This workshop is led by David Benjamin.
David Benjamin is Founding Principal, The Living, and Assistant Professor, Columbia University Graduate School of Architecture, Planning and Preservation. His work combines research and practice, and involves exploring new ideas through prototyping. Focusing on the intersection of biology, computation, and design, Benjamin has articulated three frameworks for harnessing living organisms for architecture: bio-computing, bio-sensing, and bio-manufacturing. He and the firm have won many design prizes, including the Young Architects Program Award from The Museum of Modern Art and MoMA PS1. Recent projects include the Princeton Embodied Computation Lab (a new building for research on robotics) and Pier 35 EcoPark (a 200-foot- long floating pier in the East River that changes color according to water quality).