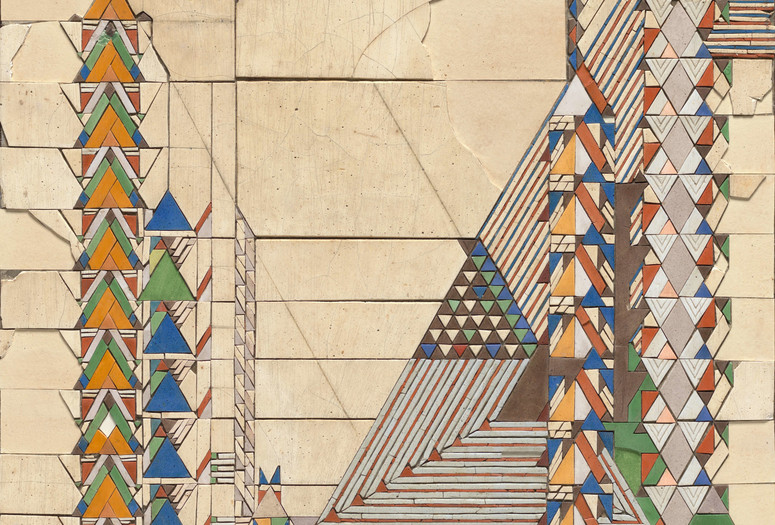 As a young boy, Frank Lloyd Wright had a letterpress print shop in his basement, and his early experiments with printing and typography fueled a lifelong interest in two-dimensional design. Throughout his career, Wright designed extraordinary lettering, books, posters, illustrations, magazine covers, real estate brochures, architectural ornaments, and stained glass windows. Wright was also fascinated by Japanese prints and by Owen Jones's Grammar of Ornament, a 19th-century text that sought to uncover universal laws of decoration. An avid photographer, Wright used the camera to study plant life, and many of his two-dimensional works translate this natural imagery into tightly structured geometric designs.
This workshop explores Wright's engagement with graphic design, employing rigorous design principles through a process that is playful and approachable. Participants will create designs using Wright's favorite two-dimensional design tools: ruler, triangle, compass, and colored pencils. Any visitor should be able to achieve satisfying, mind-opening results by actively exploring the intellectual logic behind Wright's designs.
Free with admission. Not appropriate for children under 10. Space is limited and available on a first-come, first-served basis. Sign-up begins half an hour prior to each workshop.
This workshop is led by Ellen Lupton. June 29 workshops are led by Ellen Lupton and Brockett Horne.
Ellen Lupton is a writer, curator, educator, and designer. She is Senior Curator of Contemporary Design at Cooper Hewitt, Smithsonian Design Museum. Her recent exhibitions include Beauty—Cooper Hewitt Design Triennial (with Andreas Lipps), How Posters Work, and Beautiful Users. Lupton also serves as director of the Graphic Design MFA Program at MICA (Maryland Institute College of Art) in Baltimore, where she has authored numerous books on design processes, including Thinking with Type, Graphic Design Thinking, Graphic Design: The New Basics, and Type on Screen. Her next book, Design Is Storytelling, will be published by Cooper Hewitt in 2017.