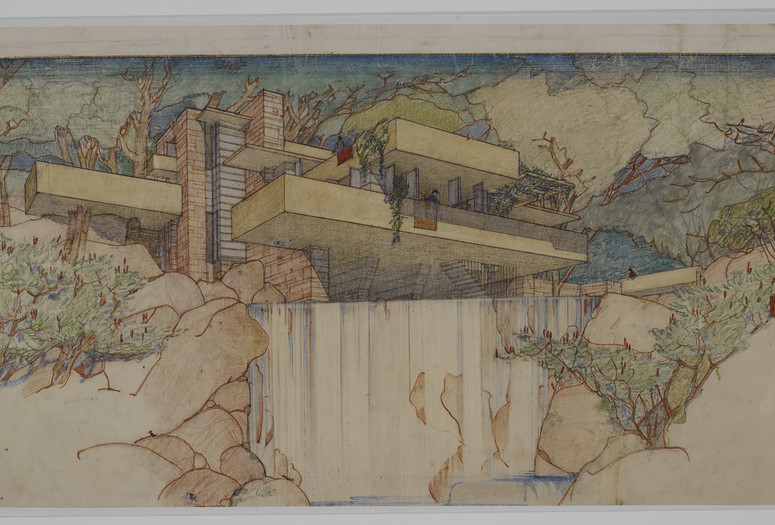 Instructor: Jennifer Gray
3 Tuesdays: 6/27, 7/11, 7/18 (no class on 7/4)
This course has multiple sessions. Register here beginning March 21.
Explore the visionary practice of Frank Lloyd Wright through critical inquiries centered on race and cultural identity, landscape and the politics of nativism, ornament, industry, and social democracy. Wright was a generator and conduit of modern ideas; he traveled extensively throughout Europe, the USSR, Asia, and South America; designed over a thousand projects during his lifetime; and published hundreds of article and books. He established an architectural school called the Taliesin Fellowship, which functioned as a laboratory of innovative design, progressive educational practices, and collective living. His politics and architectural philosophies challenged existing social and economic structures, even as he pioneered radical engineering solutions and prefabricated construction systems that challenged the building industry. This course is based on close investigation of original drawings, models, photographs, films, and other primary, archival materials presented in the exhibition Frank Lloyd Wright at 150: Unpacking the Archive. The aim is to open up Wright's work to questions and debates, and to understand the complexity and relevance of this singular figure.
This course is designed to complement Behind the Scenes: Constructing Frank Lloyd Wright.
Jennifer Gray (PhD, Columbia University) is a historian of modern art and architecture, specializing in the relationships between social politics and the built environment. Her work has been published in Future Anterior, Il Giornale Dell 'Architettura, and SmartPlanet. She is a Project Research Assistant in the Department of Architecture and Design and a lecturer at The Museum of Modern Art, an adjunct assistant professor at Columbia University, and co-curator of the exhibition Frank Lloyd Wright at 150: Unpacking the Archive.
Non Member: $355
Member: $325
Student/Educator/Corporate Member employees: $250
Capacity: 25
Explore various periods of modern and contemporary art through programs led by MoMA curators and other prominent experts, both inside and outside the galleries.
All MoMA evening classes include multiple sessions after the Museum has closed to the public; registration is open throughout.