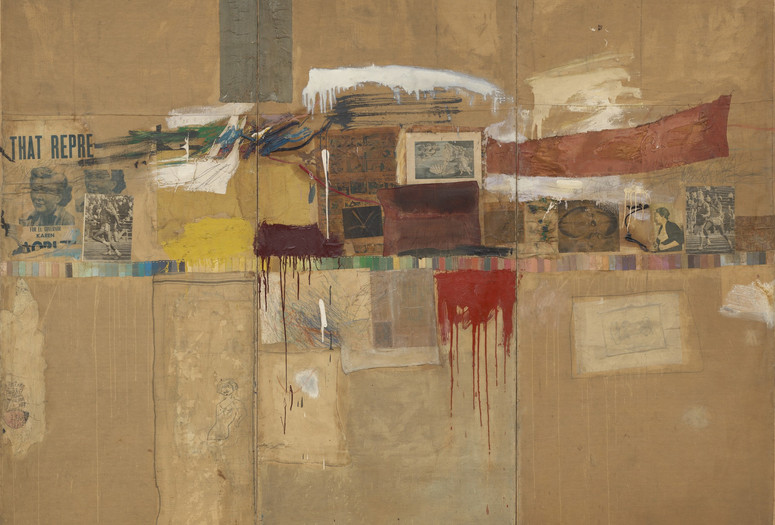 Instructor: Jenny Harris
3 Thursdays: 5/25, 6/8, 6/15 (no class on 6/1)
This course has multiple sessions. Register here beginning March 21.
In 1959, Robert Rauschenberg wrote, "Painting relates to both art and life. Neither can be made. (I try to act in that gap between the two)." The early 1950s, when Rauschenberg launched his career, was the heyday of the heroic gestural painting of Abstract Expressionism. Rauschenberg challenged this tradition, inventing new interdisciplinary models of art that shaped the decades to come. MoMA's Robert Rauschenberg: Among Friends presents a full retrospective of this defining artist, while highlighting his creative dialogues with figures such as John Cage, Merce Cunningham, Sari Dienes, Jasper Johns, Billy Kluver, Yvonne Rainer, Cy Twombly, and Susan Weil. This course delves into works on view in the exhibition and considers the ways in which Rauschenberg's career laid the groundwork for contemporary art making today. In particular, we will examine the cross-disciplinary nature of Rauschenberg's practice, looking closely at his collaborations with poets, musicians, dancers, writers, and scientists and their sites of creative exchange.
Jenny Harris has worked at The Museum of Modern Art in the Department of Painting and Sculpture since 2013, and has been a curatorial assistant since 2015. Prior to working at MoMA, she was the Liliane Pingoud Soriano Curatorial Fellow at the Musee du Louvre, Paris. She holds a BA from Wellesley College (2012).
Non Member: $270
Member: $245
Student/Educator: $190
Capacity: 25
Explore various periods of modern and contemporary art through programs led by MoMA curators and other prominent experts, both inside and outside the galleries.
All MoMA evening classes include multiple sessions after the Museum has closed to the public; registration is open throughout.