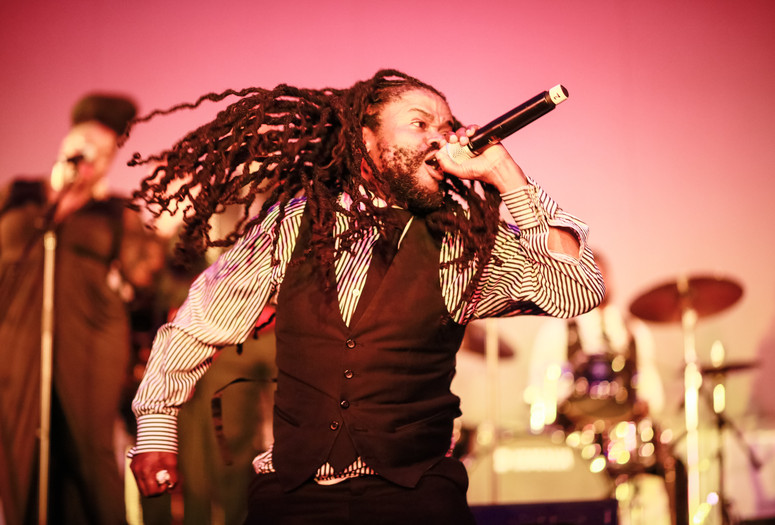 During the first 100 days of the new Presidential administration, MoMA PS1 is hosting Laboratory For Freedoms, a residency with the artist-run "super PAC" For Freedoms. As part of VW Sunday Sessions, For Freedoms presents a live concert by Reverend Sekou and The Seal Breakers. Noted activist, author, documentary filmmaker and theologian Reverend Sekou is a third generation Pentecostal preacher. For this performance, Sekou is joined by The Seal Breakers—a Brooklyn-based twelve piece band with five horns and a Hammond B3 organ—for a concert celebrating love, truth, and moral defiance inspired by protest music from African American church traditions.
In an 1802 letter, Thomas Jefferson wrote: "I contemplate with sovereign reverence that act of the whole American people which declared that their legislature should 'make no law respecting an establishment of religion, or prohibiting the free exercise thereof,' thus building a wall of separation between Church & State." Responding to Jefferson's famous words, For Freedoms seeks to challenge the contemporary art world's presumed secularism by holding a Sunday revival celebration in the VW Dome at MoMA PS1. The event explores the tenet of freedom to worship—one of Franklin D. Roosevelt's "four freedoms," from which the PAC derives its name—and continues the residency's investigation into ways in which art can inspire deeper political engagement.
MoMA PS1's acclaimed VW Sunday Sessions program welcomes visitors to experience art live and in real time. Embracing performance, music, dance, conversations, and moving images the program vividly demonstrates how these art forms can push us to engage with our contemporary world in creative, illuminating ways. With an emphasis on artistic practices that blur and break traditional genre boundaries, the program supports and commissions new work, inviting artists, curators, and other cultural instigators to share their latest projects.
MoMA PS1 offers one of the most extensive museum programs dedicated to live art in the world, representing a core component of the institution's mission since its founding.
VW Sunday Sessions is organized by Jenny Schlenzka, Associate Curator; Alex Sloane, Curatorial Assistant; Taja Cheek, Curatorial Assistant; Rosey Selig-Addiss, Associate Producer; and Lucy Lie, Production Coordinator.

VW Sunday Sessions and the VW Dome at MoMA PS1 are made possible by a partnership with Volkswagen of America, who have supported the program for five years since its inception.