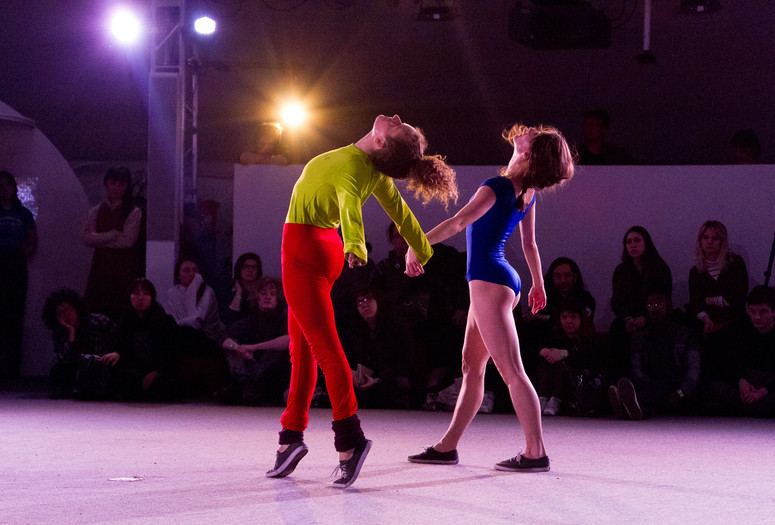 This public presentation marks the culmination of Moriah Evans's four-month-long residency in the VW Dome. In this first look at a new work-in-progress, Evans, a New York–based choreographer and dancer, examines how we move, what we expect to watch, and how our values of discernment must be reconstructed. Performers explore personal interiority, while negotiating the medium's insistence upon external visibility. The work explores alternate forms of socialization through embodied experience and perception, in which four female bodies are caught in a state of reorganizing themselves. With Lizzie Feidelson, Nicole Mannarino, and Sarah Beth Percival.
Figuring (working title) will premiere at SculptureCenter in 2018.
MoMA PS1's acclaimed VW Sunday Sessions program welcomes visitors to experience art live and in real time. Embracing performance, music, dance, conversations, and moving images the program vividly demonstrates how these art forms can push us to engage with our contemporary world in creative, illuminating ways. With an emphasis on artistic practices that blur and break traditional genre boundaries, the program supports and commissions new work, inviting artists, curators, and other cultural instigators to share their latest projects.
MoMA PS1 offers one of the most extensive museum programs dedicated to live art in the world, representing a core component of the institution's mission since its founding.
VW Sunday Sessions is organized by Jenny Schlenzka, Associate Curator; Alex Sloane, Curatorial Assistant; Taja Cheek, Curatorial Assistant; Rosey Selig-Addiss, Associate Producer; and Lucy Lie, Production Coordinator.

VW Sunday Sessions and the VW Dome at MoMA PS1 are made possible by a partnership with Volkswagen of America, who have supported the program for five years since its inception.