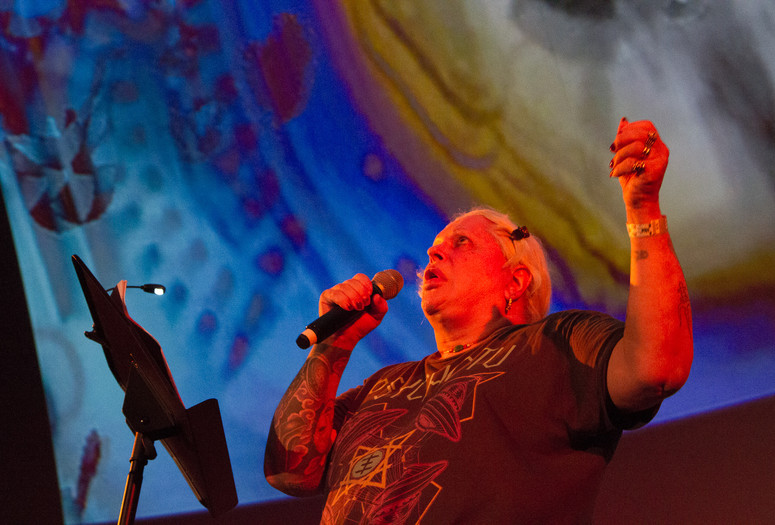 Organized with Bill Kouligas, featuring Genesis Breyer P-Orridge, Terre Thaemlitz, Honey Dijon, Juliana Huxtable, Elysia Crampton, Pauline Boudry and Renate Lorenz, Code Liberation and Dreamcrusher, Between 0 and 1: Remixing Gender, Technology, and Music is a series of performances, talks, screenings, and workshops that highlight and investigate the relationship between gender nonconforming identities, technology, and electronic music. For three consecutive weekends, the series focuses on gender positions that reject and challenge a binary world view and looks at the historical role that electronic music plays in creating alternative spaces allowing for multitudes of identities, desires, and affects.
Between 0 and 1 culminates with an exploration of how the ongoing relationship between electronic music and the dissolution of established gender constructs has bridged generations and continues to be a focus for emerging artists today.
Artist, musician, and writer Genesis Breyer P-Orridge closes the series with a lecture charting how their destruction of gender binaries evolved in tandem with their rise in experimental music. From COUM Transmissions with Cosey Fanni Tutti in the early 70s, to the formation of pioneering industrial music band Throbbing Gristle and later Psychic TV, Breyer P-Orridge has continued to push the boundaries of electronic music and performance while simultaneously deconstructing preconceived notions of gender identity. This pursuit culminated with the ongoing Pandrogeny Project, initiated in the mid 90s in collaboration with their late wife, Lady Jaye.
Before the lecture, there will be live performances by Elysia Crampton, whose work explores the historic roots of queer identity in conjunction with South American spirituality, and New York City-based noise artist Dreamcrusher, who considers Breyer P-Orridge a formative inspiration.
Schedule
3:00 p.m. - Dreamcrusher, Live
4:00 p.m. - Elysia Crampton, Live
5:00 p.m. - Genesis Breyer P-Orridge, Lecture-Performance
MoMA PS1's acclaimed VW Sunday Sessions program welcomes visitors to experience art live and in real time. Embracing performance, music, dance, conversations, and moving images the program vividly demonstrates how these art forms can push us to engage with our contemporary world in creative, illuminating ways. With an emphasis on artistic practices that blur and break traditional genre boundaries, the program supports and commissions new work, inviting artists, curators, and other cultural instigators to share their latest projects.
MoMA PS1 offers one of the most extensive museum programs dedicated to live art in the world, representing a core component of the institution's mission since its founding.
Special thanks to B&O PLAY.

VW Sunday Sessions is organized by Jenny Schlenzka, Associate Curator; Alex Sloane, Curatorial Assistant; Taja Cheek, Curatorial Assistant; Rosey Selig-Addiss, Associate Producer; and Lucy Lie, Production Coordinator.

VW Sunday Sessions and the VW Dome at MoMA PS1 are made possible by a partnership with Volkswagen of America, who have supported the program for five years since its inception.