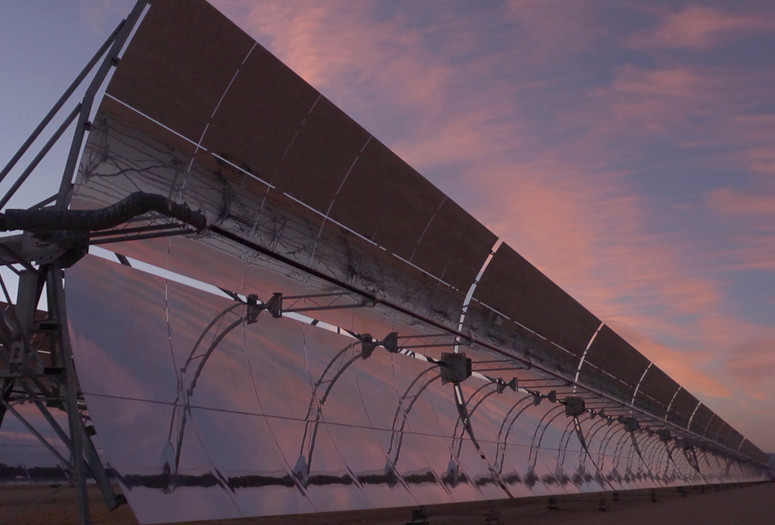 State of Rest and Motion. 2017. USA. Directed by Edin Velez. 16 min.
World premiere
This cine-portrait of New York City uses digital effects to turn the countless riders of the subway system into living, breathing paintings.
Irradiant Field. 2016. USA. Directed by Laura Kraning. 10 min.
New York premiere
In the Mojave Desert, fields of solar panels follow the sun's daily journey in perfect synchronicity.
Coal Creek. 2015. USA. Directed by George Griffin. 10 min.
North American premiere
Animator George Griffin recalls racial discord in his eastern Tennessee hometown. A collage of photographs, maps, interviews, cartoons, and jazz highlights the horrors of a hatred that reverberates to this day.
489 Years. 2016. France. Directed by Hayoun Kwon. In Korean; English subtitles. 11 min.
New York premiere
The oral history of a former South Korean soldier who once patrolled the DMZ is brought to life by computer graphics in a style that conjures first-person-shooter video games.
Chitrashala. 2015. India. Directed by Amit Dutta. 19 min.
US premiere
Doc Fortnight alumnus Amit Dutta continues to explore his fascination with Indian miniature painting. At the Amar Mahal Palace in northern India, several exquisite works come into focus, before springing to life before our eyes.
Jungle. 2016. France. Directed by Colia Vranici. In Pashto, English; English subtitles. 18 min.
North American premiere
The Calais "Jungle" refugee camp was demolished in October 2016. At the tail end of its brief existence, director Colia Vranici follows a 16-year-old Afghan boy as he passes through, dreaming of a future in England.