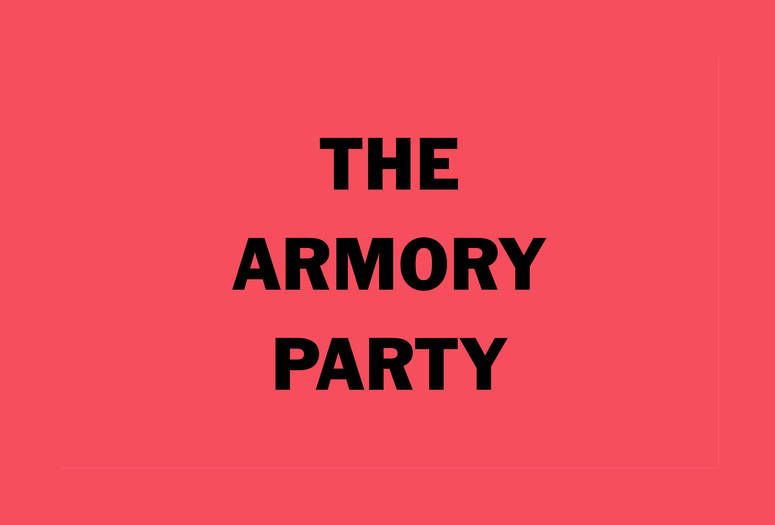 Preview and party to benefit The Museum of Modern Art
The Armory Show Preview starts at noon
Show Piers 92 and 94 on the Hudson River
Twelfth Avenue at 55 Street, New York
Opening Party (8:00–9:00 p.m. VIP) and (9:00 p.m.–12:00 a.m. General Admission)
Featuring a live performance by St. Lucia
DJ set by Helado Negro
The Museum of Modern Art
11 West 53 Street, New York
This year's event will be hosted by Glenn D. Lowry, Director, The Museum of Modern Art; Klaus Biesenbach, Director, MoMA PS1, and Chief Curator at Large, The Museum of Modern Art; Benjamin Genocchio, Executive Director, The Armory Show; Nicole Berry, Deputy Director, The Armory Show; Deborah Harris, Deputy Director, The Armory Show; Jarrett Gregory, Curator, Armory Focus; Eric Shiner, Senior Vice President, Contemporary Art, Sotheby's, and Curator, Armory Platform; Alexandra Chemla, Founder and CEO, ArtBinder; Carter Cleveland, Founder and CEO, Artsy; and Sebastian Cwilich, President and COO, Artsy.
The Armory Show is New York's premier art fair and a definitive cultural destination for discovering and collecting the world's most important 20th- and 21st-century artworks. Staged on Piers 92 and 94, one of the city's industrial gems, the fair features presentations by leading international galleries, innovative artist commissions, and dynamic public programs. Since its founding in 1994, The Armory Show has served as a nexus for the international art world, inspiring dialogue, discovery, and patronage in the visual arts.
For the 2017 edition, The Armory Show will unveil a new layout that integrates Piers 92 and 94 into a singular fair for modern and contemporary art, welcoming over 200 exhibitors from 30 countries. The fair will also feature an acclaimed VIP Program, an engaging and lively conversation series titled Armory Live; and a number of citywide events and openings as part of Armory Arts Week.
Download the reply form or buy tickets online. For further information, please call the Special Events office at (212) 708-9680.
Special thanks to Artsy.