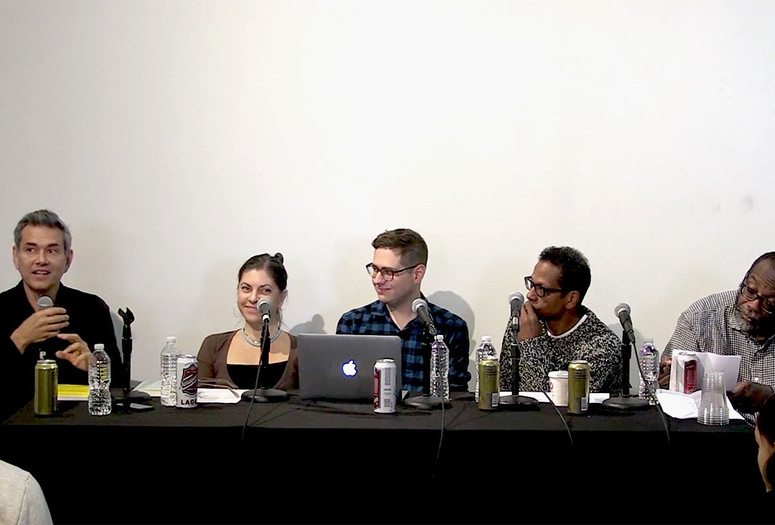 André Lepecki discusses his new book, Singularities: Dance in the Age of Performance, as part of a conversation with and Barbara Browning, Leon J. Hilton, Ralph Lemon, and Fred Moten.
Barbara Browning is a colleague of André Lepecki, in the Department of Performance Studies at NYU. She has written on dance, epidemiology and fetishism, and in recent years has turned to ficto-critical forms to enact and analyze performance. Her third novel, The Gift (or, Techniques of the Body) comes out in May 2017.
Leon J. Hilton received his PhD from the Department of Performance Studies at New York University in 2016 and is currently a Mellon Postdoctoral Fellow in the Humanities at the University of Pennsylvania. His writing has appeared in GLQ, The Los Angeles Review of Books, and TDR/The Drama Review, among other venues.
Ralph Lemon is a choreographer, writer, and visual artist. He currently serves as the Artistic Director of Cross Performance, a company dedicated to the creation of cross-cultural and cross-disciplinary performance and presentation.
André Lepecki is a writer, independent curator, and Associate Professor in Performance Studies at NYU. He is author of Exhausting Dance: Performance and the Politics of Movement, and editor of several anthologies on dance and performance theory.
Fred Moten is author of In the Break: The Aesthetics of the Black Radical Tradition, Hughson's Tavern, B. Jenkins, The Feel Trio, The Little Edges, The Service Porch and co-author, with Stefano Harney, of The Undercommons: Fugitive Planning and Black Study and, with Wu Tsang, of Who touched me?. He lives in Los Angeles and teaches at the University of California, Riverside.
MoMA PS1's acclaimed VW Sunday Sessions program welcomes visitors to experience art live and in real time. Embracing performance, music, dance, conversations, and moving images the program vividly demonstrates how these art forms can push us to engage with our contemporary world in creative, illuminating ways. With an emphasis on artistic practices that blur and break traditional genre boundaries, the program supports and commissions new work, inviting artists, curators, and other cultural instigators to share their latest projects.
MoMA PS1 offers one of the most extensive museum programs dedicated to live art in the world, representing a core component of the institution's mission since its founding.
VW Sunday Sessions is organized by Jenny Schlenzka, Associate Curator, with Alex Sloane, Curatorial Assistant, Taja Cheek, Curatorial Assistant, and Rosey Selig-Addiss, Associate Producer, and Lucy Lie, Production Coordinator.

VW Sunday Sessions and the VW Dome at MoMA PS1 are made possible by a partnership with Volkswagen of America, who have supported the program for five years since its inception.