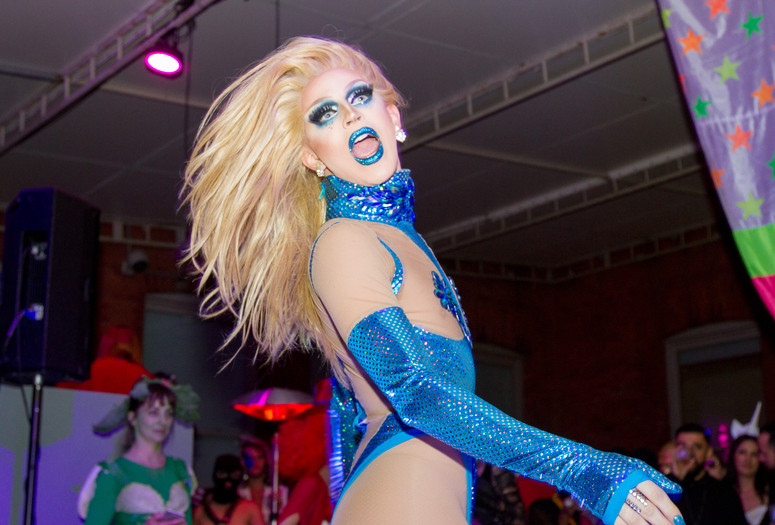 On the Saturday before Halloween, MoMA PS1 and legendary nightlife host Susanne Bartsch present the annual Halloween Ball. This year's ball features a timely theme, "The White House of Horror," with live performances, DJs, dancing, and the most artistic costumes in town.
Hosted by Korakrit Arunanondchai, BCALLA, Klaus Biesenbach, Ryan Burke, Maria Cornejo, Eartheater, ECKHAUS LATTA, Peter Eleey, Angela Goding, KENNY KENNY, Kiki Kudo, Scooter LaForge, Rigoberto Lora, Tobias Madison, Ryan McNamara, Raul de Nieves, Glenn O'Brien, Mao Padilha, Roger Padilha, Kembra Pfahler // The Voluptuous Horror of Karen Black, Eliza Ryan, Sadaf, Jacolby Satterwhite, Jenny Schlenzka, Casey Spooner, Brandon Stosuy, Russell Tovey, Sam Valenti IV, David Velasco and Kristen Joy Watts.
DJ sets by Amber Valentine,Valissa Yoe, W Jeremy, and Occupy the Disco.
Performances by Kevin Aviance, Macy Rodman, Aquaria, Neocamp, Dirty Martini, and Julie Atlas Muz.
The celebration continues after midnight, until dawn, at an after party hosted by Susanne Bartsch, at a secret Williamsburg location to be announced.
MoMA PS1's acclaimed VW Sunday Sessions program welcomes visitors to experience art live and in real time. Embracing performance, music, dance, conversations, and moving images the program vividly demonstrates how these art forms can push us to engage with our contemporary world in creative, illuminating ways. With an emphasis on artistic practices that blur and break traditional genre boundaries, the program supports and commissions new work, inviting artists, curators, and other cultural instigators to share their latest projects.
MoMA PS1 offers one of the most extensive museum programs dedicated to live art in the world, representing a core component of the institution's mission since its founding.
With Special Thanks to
LELO HEX™ THE CONDOM RE-ENGINEERED
Perrier® Sparkling Natural Mineral Water

VW Sunday Sessions is organized by Jenny Schlenzka, Associate Curator; Alex Sloane, Curatorial Assistant; Taja Cheek, Curatorial Assistant; Rosey Selig-Addiss, Associate Producer; and Lucy Lie, Production Coordinator.

VW Sunday Sessions and the VW Dome at MoMA PS1 are made possible by a partnership with Volkswagen of America, who have supported the program for five years since its inception.