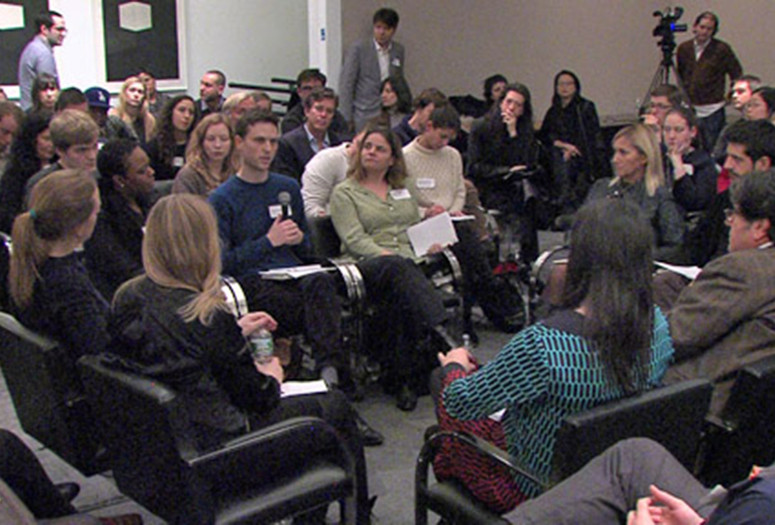 For the upcoming session we have invited artists Leslie Hewitt and Alec Soth; Elizabeth W. Hutchinson, Associate Professor, Department of Art History and Archeology, Columbia University; Chrissie Iles, the Anne and Joel Ehrenkranz curator at the Whitney Museum of American Art, New York; Sarah Meister, Curator, Department of Photography, MoMA; and Drew Sawyer, the Beaumont and Nancy Newhall Curatorial Fellow, Department of Photography, MoMA, to lead a discussion about American identity in contemporary art and photography. Taking a cue from the [*Walker Evans American Photographs* exhibition](/calendar/exhibitions/1360) currently on view at MoMA, this session will address the ways in which we think about "American-ness" today, in an increasingly global context. What constitutes American images, visual culture, and identity? How have artists, scholars, and curators redefined the idea of national identity? We look forward to seeing you all at this exciting event.
This event is invitation only, but we are very pleased to present a live stream of the forum, which will allow remote friends and colleagues to participate in the conversation. Please note that by attending the Forum, you are agreeing to permit the Museum to live-stream, videotape, and record your voice and likeness, and to save and share these recordings as the Museum sees fit.
Cofounded by curators Roxana Marcoci and Eva Respini on February 16, 2010, and conceived as an experimental platform for free-form critical discussions, MoMA's forums on contemporary photography are designed to encourage debate about the perspectives and scope of still and moving images and other forms of picture-making among leading artists, curators, and theorists in the field. The creative process of today is not solitary but dynamic, evolving from countless partnerships. These forums offer an intellectual milieu that values the scholarly reassessment of pivotal ideas in art, innovative practices, and complex and competing visions of modern and contemporary art.
Roxana Marcoci, The David Dechman Senior Curator, The Robert B. Menschel Department of Photography, MoMA, begins each session with an introduction to the topic, providing context for the conversation. Four to seven featured speakers then present for five to 10 minutes each. The presentations are followed by a probing, critical Q&A session and a moderated discussion with all the guests.
Read an article about the Forums from Art in America.
Organized by Roxana Marcoci, Curator, and Eva Respini, Associate Curator, Department of Photography, MoMA
Speakers: Leslie Hewitt, artist
Elizabeth W. Hutchinson, Associate Professor, Department of Art History and Archaeology, Columbia University
Chrissie Iles, The Anne and Joel Ehrenkranz Curator, Whitney Museum of American Art, New York
Sarah Meister, Curator, Department of Photography, MoMA
Luis Enrique Pérez-Oramas, The Estrellita Brodsky Curator of Latin American Art, MoMA
Drew Sawyer, The Beaumont & Nancy Newhall Curatorial Fellow, Department of Photography, MoMA
Alec Soth, artist