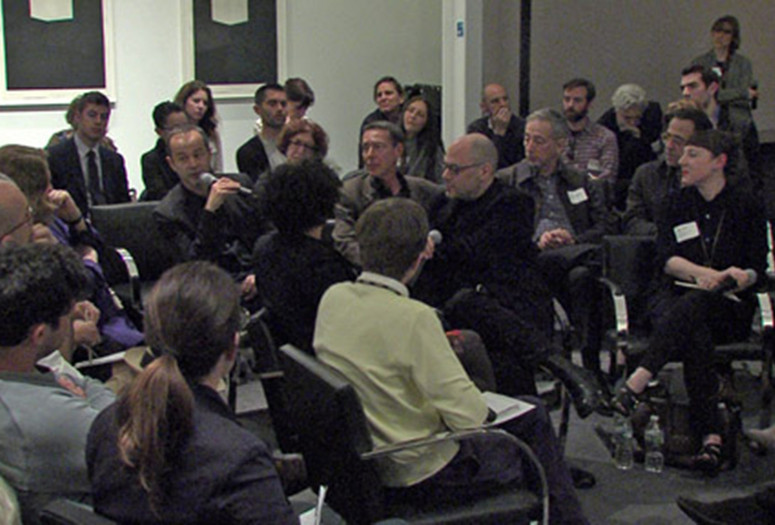 For the upcoming session we have invited artists Lucas Blalock and John Kelsey; Matthew Biro, Professor and Chair, Department of the History of Art, University of Michigan; Alex Klein, The Dorothy and Stephen R. Weber (CHE'60) Program Curator, Institute of Contemporary Art, University of Pennsylvania; and Carol Squiers, Curator, International Center of Photography to lead a discussion about material and conceptual experimentation in contemporary photographic practices. Taking a cue from the MoMA exhibitions [*Robert Heinecken: Object Matter*](http://www.moma.org/visit/calendar/exhibitions/1419) and [*Alibis: Sigmar Polke 1963–2010](http://www.moma.org/visit/calendar/exhibitions/1407), this session addresses the ways in which expanded ideas about the photographic medium and the circulation of images resonate into the 21st century.
Cofounded by curators Roxana Marcoci and Eva Respini on February 16, 2010, and conceived as an experimental platform for free-form critical discussions, MoMA's forums on contemporary photography are designed to encourage debate about the perspectives and scope of still and moving images and other forms of picture-making among leading artists, curators, and theorists in the field. The creative process of today is not solitary but dynamic, evolving from countless partnerships. These forums offer an intellectual milieu that values the scholarly reassessment of pivotal ideas in art, innovative practices, and complex and competing visions of modern and contemporary art.
Roxana Marcoci, Senior Curator, Department of Photography, begins each session with an introduction to the topic, providing context for the conversation. Four to seven featured speakers then present for five to 10 minutes each. The presentations are followed by a probing, critical Q&A session and a moderated discussion with all the guests.
Read an article about the Forums from Art in America.
Organized by Roxana Marcoci, Curator, and Eva Respini, Associate Curator, Department of Photography, MoMA
Speakers: Lucas Blalock, artist
Matthew Biro, Professor and Chair, Department of the History of Art, University of Michigan
Alex Klein, The Dorothy and Stephen R. Weber (CHE'60) Program Curator, Institute of Contemporary Art, University of Pennsylvania
Magnus Schaefer, Curatorial Assistant, Department of Painting and Sculpture, MoMA
Carol Squiers, Curator, International Center of Photography
Lanka Tattersall, Curatorial Assistant, Department of Painting and Sculpture, MoMA