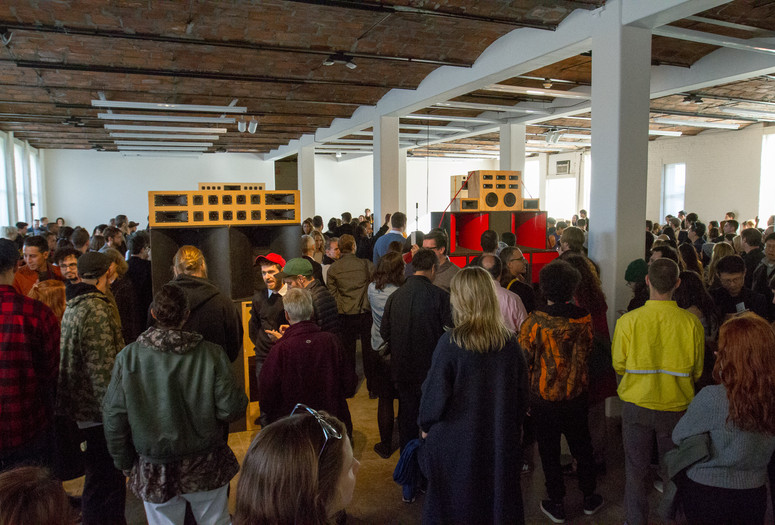 For the opening of Mark Leckey: Containers and Their Drivers, Leckey activates his Sound Systems (2001–12), a series of massive anthropomorphic speaker towers, in front of a live audience. In 2003, Leckey's first Sound System performance, BigBoxStatueAction, at Tate Britain, featured one of his speaker towers with Jacob Epstein's classic modernist sculpture Jacob and the Angel (1940–41), blasting songs ranging from the Beach Boys' "Our Prayer" to Throbbing Gristle's "Persuasion." In doing so Leckey contrasted Epstein's massive alabaster sculpture, inherently static, silent and invariable with the fleeting, continuously changing and invisible material that is sound. Far from a critique of sculpture, Leckey considers this acoustic set-up a different form of art appreciation, one that is intuitive and communal.
Following the performance, Leckey will speak with two of the exhibition's curators, Peter Eleey, Curator and Associate Director of Exhibitions and Programs, MoMA PS1, and Stuart Comer, Chief Curator, Department of Media and Performance Art, The Museum of Modern Art.
MoMA PS1's acclaimed VW Sunday Sessions program welcomes visitors to experience art live and in real time. Embracing performance, music, dance, conversations, and moving images the program vividly demonstrates how these art forms can push us to engage with our contemporary world in creative, illuminating ways. With an emphasis on artistic practices that blur and break traditional genre boundaries, the program supports and commissions new work, inviting artists, curators, and other cultural instigators to share their latest projects.
MoMA PS1 offers one of the most extensive museum programs dedicated to live art in the world, representing a core component of the institution's mission since its founding.
VW Sunday Sessions is organized by Jenny Schlenzka, Associate Curator; Alex Sloane, Curatorial Assistant; Taja Cheek, Curatorial Assistant; Rosey Selig-Addiss, Associate Producer; and Lucy Lie, Production Assistant.

VW Sunday Sessions and the VW Dome at MoMA PS1 are made possible by a partnership with Volkswagen of America, who have supported the program for five years since its inception.