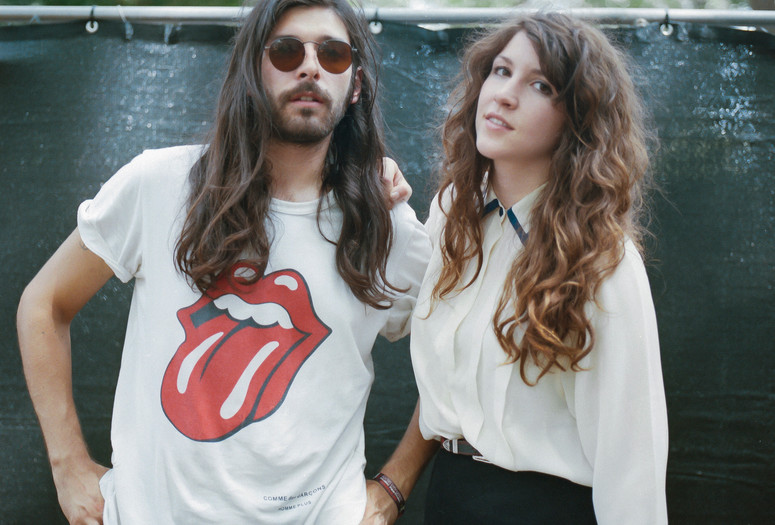 Musical acts for the 2014 series feature an array of vibrant, creative women who are making their mark on today's music scene. Veterans and up-and-coming artists perform a range of musical styles, including dream and synth pop, alt-folk, surf rock, neo-soul, and pop punk.
Tonight's Musical Performance: Widowspeak
Molly Hamilton, vocals and guitar; Robert Earl Thomas, guitar
Widowspeak is an American band known for its wistful, Western-tinged take on rock 'n' roll. The group formed in 2010 and released two singles in 2011 ("Harsh Realm" and "Gun Shy") followed by a self-titled debut album that summer, all on the Brooklyn label Captured Tracks. Widowspeak has been praised for its reverential spaciousness, Hamilton's haunting voice, and Thomas's spindly, Morricone-esque guitar lines. The music draws on 1950s pop ballads and 1970s psych, and features languid call-and-response melodies. The band has toured extensively, wearing in its warm, nostalgic sound. The Swamps is Widowspeak's newest release. Here the band's characteristic sonic landscapes, poignant harmonies, and layers of delicate guitar-work usher in a new chapter. Inspired by the light-choked wetlands of its title, the album brims with songs about fears of stagnation and the pitfalls of nostalgia, but never relinquishes Widowspeak's melodic optimism.
Every Thursday in July and August, 5:30–8:00 p.m.
Live music begins at 6:30 p.m.
Regular Museum admission applies. Performances take place in the Sculpture Garden. In the event of rain, the Garden will close, and music will take place in Theater 1. Please note: Sculpture Garden and indoor seating are limited and on a first-come, first-served basis.
The musical component of Summer Thursdays 2018 celebrates musicians living and working in New York City. Organized in collaboration with PopRally, the series hosts a variety of sounds that explore the City's expansive musical landscape. Each evening, unique sonic flavors fill the Sculpture Garden with a range of blended genres such as dream punk, Afrofuturist soul, funk fusion, hip-hop, experimental, and lo-fi baroque pop.
The series was organized in collaboration with PopRally, MoMA's cross-departmental committee that programs events at MoMA and MoMA PS1.