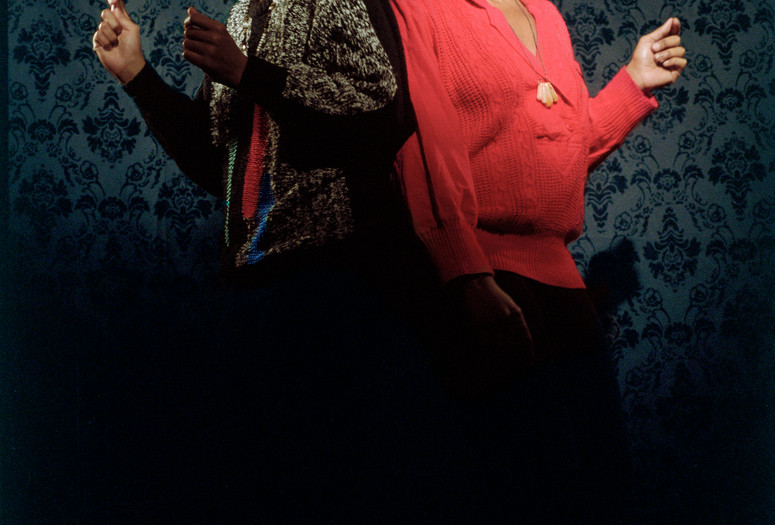 Musical acts for the 2014 series feature an array of vibrant, creative women who are making their mark on today's music scene. Veterans and up-and-coming artists perform a range of musical styles, including dream and synth pop, alt-folk, surf rock, neo-soul, and pop punk.
Tonight's Musical Performance: THEESatisfaction
Stasia "Stas" Irons and Catherine "Cat" Harris-White, vocals and electronics
The sound of the Seattle-based THEESatisfaction infuses funk-psychedelic feminista sci-fi epics with the warmth and depth of black jazz and Sunday morning soul, frosted with icy raps that evoke Elaine Brown, Ursula Rucker, and Q-Tip. Rapper Irons and singer Harris-White write, perform, and produce their own material. Immediately embraced for their singular sound, unflinching commentary, and immortal groove, they have made friends, fans, and new family from coast to coast through a combination of sharp digital hustle and self-organized tours that connect them to like minds everywhere. The band's debut full-length album, awE NaturalE, was released by Sub Pop in 2012. Pop Matters praised it as "a powerful testament to hip-hop's potential for challenging, inspiring, and pushing beyond the boundaries of genre toward new and exciting forms of hybridity and interconnection."
Every Thursday in July and August, 5:30–8:00 p.m.
Live music begins at 6:30 p.m.
Regular Museum admission applies. Performances take place in the Sculpture Garden. In the event of rain, the Garden will close, and music will take place in Theater 1. Please note: Sculpture Garden and indoor seating are limited and on a first-come, first-served basis.
The musical component of Summer Thursdays 2018 celebrates musicians living and working in New York City. Organized in collaboration with PopRally, the series hosts a variety of sounds that explore the City's expansive musical landscape. Each evening, unique sonic flavors fill the Sculpture Garden with a range of blended genres such as dream punk, Afrofuturist soul, funk fusion, hip-hop, experimental, and lo-fi baroque pop.
The series was organized in collaboration with PopRally, MoMA's cross-departmental committee that programs events at MoMA and MoMA PS1.