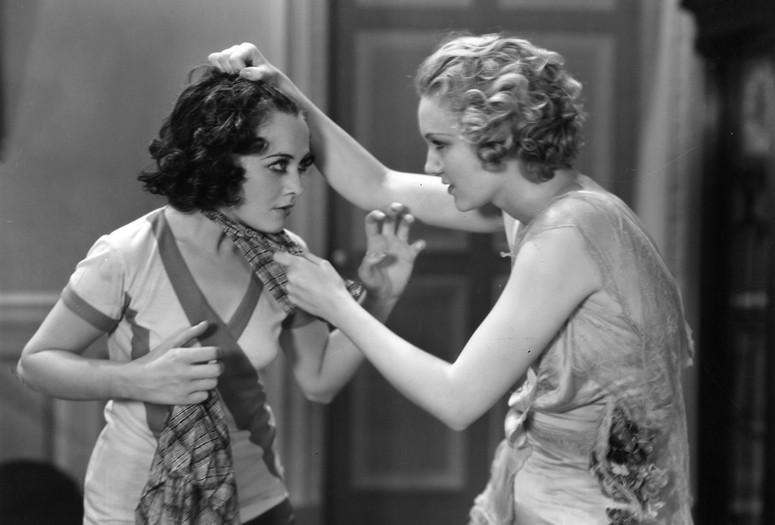 The Brat. 1931. USA. Directed by John Ford. Screenplay by S. N. Behrman and Sonya Levien, from a play by Maude Fulton. With Sally O'Neil, Alan Dinehart, Frank Albertson. 67 min.
A Park Avenue novelist (Alan Dinehart) fishes a street urchin (Sally O'Neil) out of a Lower East Side night court to serve as a model for a character in his new book. The resurrection of this small but engaging social comedy, restored by The Museum of Modern Art from the sole surviving original element—a badly damaged nitrate print—means that all of Ford's extant sound films have been returned to circulation. Among the film's memorable moments is an evidently authentic pitched battle between the tiny O'Neil and the patrician Virginia Cherrill (the blind flower girl of Chaplin's City Lights) that could be the kinkiest passage in Ford's oeuvre. Restored by The Museum of Modern Art and The Film Foundation, with funding provided by the George Lucas Family Foundation and the Franco-American Cultural Fund, a unique partnership between the Directors Guild of America (DGA), the Motion Picture Association of America (MPAA), Société des Auteurs, Compositeurs et Editeurs de Musique (SACEM), and the Writers Guild of America, West (WGAW); courtesy Twentieth Century Fox. DCP.
Bachelor's Affairs. 1932. USA. Directed by Alfred L. Werker. Screenplay by Barry Conners, Philip Klein, Leon Gordon, based on the play Precious by James Forbes. With Adolphe Menjou, Minna Gombell, Arthur Pierson, Joan Marsh, Alan Dinehart. 64 min.
Middle-aged roué Adolphe Menjou is lured into marrying a much younger woman (Joan Marsh), who quickly exhausts his capacity for all-night partying. Realizing his marriage is a mistake, Menjou introduces his young bride to a handsome architect, hoping they will run away together. This elegantly risqué pre-Code comedy was directed by the highly adaptable Alfred Werker, whose long career ranged from entertaining baubles like this to the audacious civil rights film Lost Boundaries. Restored by the UCLA Film & Television Archive. Restoration funding provided by Packard Humanities Institute. Courtesy Twentieth Century Fox. 35mm.