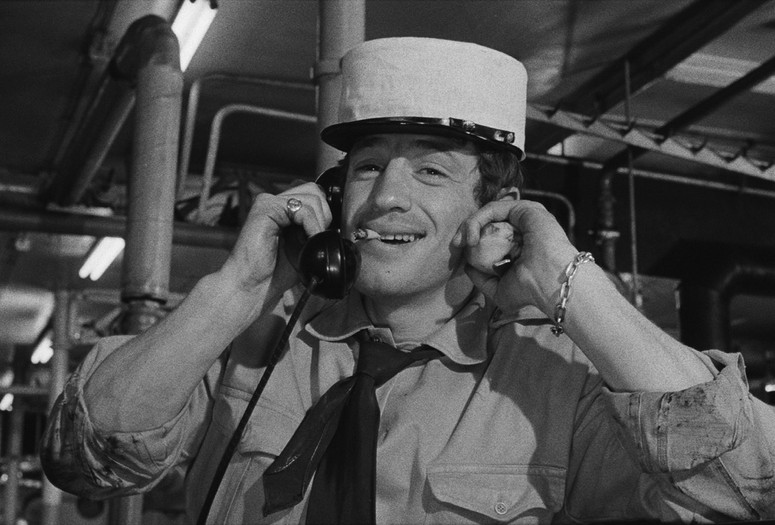 Dragées au poivre (Pepper Candy/Sweet and Sour). 1963. France. Directed by Jacques Baratier. Screenplay by Baratier, Guy Bedos. With Bedos, Jean-Paul Belmondo, Anna Karina, Monica Vitti. In French; English subtitles. 94 min. 94 min.
With a star-studded French and Italian cast led by Belmondo, Karina, and Vitti, this comical sendup of New Wave and vérité cinema—and of the cultural and political life of 1960s Paris—has a cult following in Europe yet remains little known in the United States. Jacques Baratier's Goha (1958) was a highlight of To Save and Project when Anouk Aimée introduced it at MoMA in 2014; the festival now spotlights Baratier's burlesque fantasy Dragées au poivre, which premiered at Cannes this year in a new 2K restoration by the CNC, Paris, and Association Jacques Baratier. DCP.
Jane Aaron: Two Films. 1980, 1986. Directed by Jane Aaron. 9 min.
Jane Aaron's work in stop-motion and collage animation will be immediately recognizable to an entire generation who learned the alphabet through Sesame Street and Between the Lines. Her independent films, involving people and things moving weightlessly and joyously through domestic still lifes and landscapes, have been equally celebrated in museums and festivals around the world. MoMA's To Save and Project festival presents two new 16mm restorations of these, Interior Designs (1980, 5 min.) and Set in Motion (1986, 4 min.), made possible by The Women's Film Preservation Fund of New York Women in Film & Television in partnership with Cineric and the filmmaker, Jane Aaron.