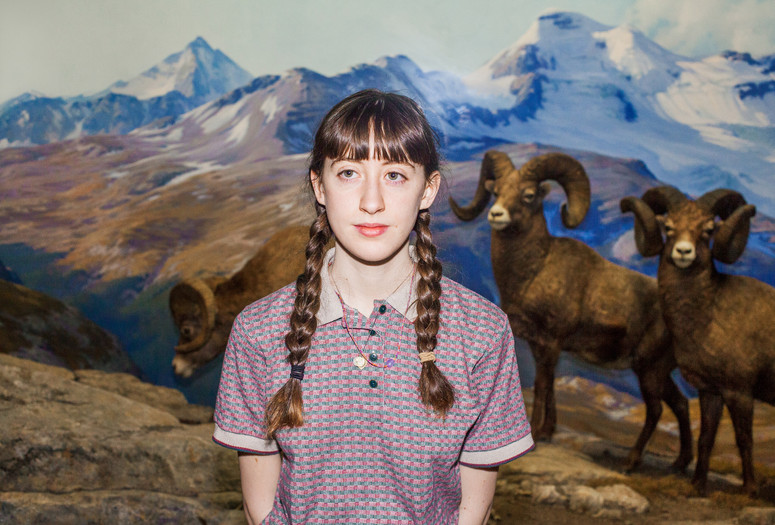 Musical acts for the 2014 series feature an array of vibrant, creative women who are making their mark on today's music scene. Veterans and up-and-coming artists perform a range of musical styles, including dream and synth pop, alt-folk, surf rock, neo-soul, and pop punk.
Tonight's Musical Performance: Frankie Cosmos
Greta Kline, vocals, guitar; Gabrielle Smith, keyboard, vocals; David Maine, bass; Aaron Maine, drums
Frankie Cosmos is a four-piece band led by the singer and songwriter Greta Kline. The songs range from slow, sad ballads to goofy rock 'n' roll love songs. They celebrate, mourn, or otherwise commemorate the small daily stories that weave the textures of a young life. Jon Caramanica of The New York Times found a recent performance "bracing and warm and full of tiny observational gems. . . . The aesthetic of naiveté here is just a cover—more interesting things are happening underneath the hood." Frankie Cosmos is based in New York City (where Kline and Smith grew up) and Pleasantville, New York (where the Maine brothers grew up). Zentropy, the group's first studio album, features 10 songs and was released in March on the label Double Double Whammy.
Every Thursday in July and August, 5:30–8:00 p.m.
Live music begins at 6:30 p.m.
Regular Museum admission applies. Performances take place in the Sculpture Garden. In the event of rain, the Garden will close, and music will take place in Theater 1. Please note: Sculpture Garden and indoor seating are limited and on a first-come, first-served basis.
The musical component of Summer Thursdays 2018 celebrates musicians living and working in New York City. Organized in collaboration with PopRally, the series hosts a variety of sounds that explore the City's expansive musical landscape. Each evening, unique sonic flavors fill the Sculpture Garden with a range of blended genres such as dream punk, Afrofuturist soul, funk fusion, hip-hop, experimental, and lo-fi baroque pop.
The series was organized in collaboration with PopRally, MoMA's cross-departmental committee that programs events at MoMA and MoMA PS1.