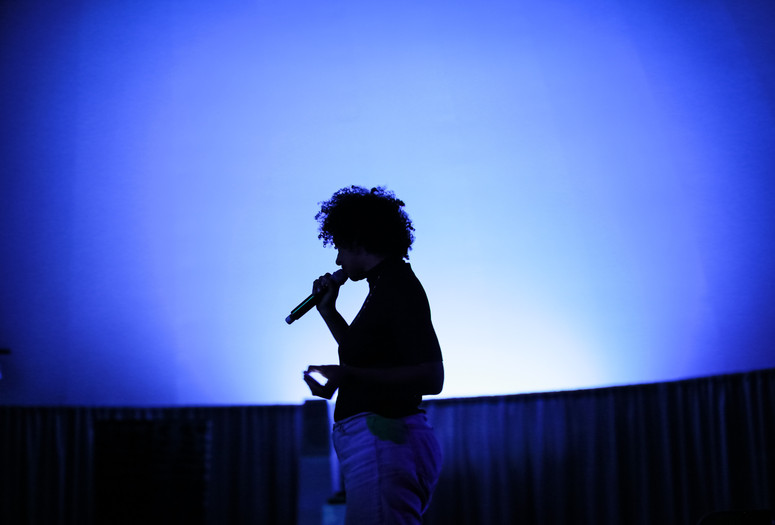 British artist and writer Hannah Black will present a new performance work, OR LIFE OR, as the 2017 VW Sunday Sessions Commission. Part of an ongoing collaboration with composer and musician Bonaventure and artist and designer Ebba Fransén Waldhör, OR LIFE OR takes place within a site-specific, immersive environment in the VW Dome. The text, performance and set are loosely based around a constellation of reference points: a superhero figure called Anxietina, the Wikipedia entry for "life," theories of political struggle, and the twin specters of apocalypse and ancestry. The performance takes place in an environment conceived by Black and Waldhör that features colored reflective pools, laser projected extracts from the script, and handcrafted banners.
MoMA PS1's acclaimed VW Sunday Sessions program welcomes visitors to experience art live and in real time. Embracing performance, music, dance, conversations, and moving images the program vividly demonstrates how these art forms can push us to engage with our contemporary world in creative, illuminating ways. With an emphasis on artistic practices that blur and break traditional genre boundaries, the program supports and commissions new work, inviting artists, curators, and other cultural instigators to share their latest projects.
MoMA PS1 offers one of the most extensive museum programs dedicated to live art in the world, representing a core component of the institution's mission since its founding.
VW Sunday Sessions is organized by Jenny Schlenzka, Associate Curator; Alex Sloane, Curatorial Assistant; Taja Cheek, Curatorial Assistant; Rosey Selig-Addiss, Associate Producer; and Lucy Lie, Production Coordinator.

VW Sunday Sessions and the VW Dome at MoMA PS1 are made possible by a partnership with Volkswagen of America, who have supported the program for five years since its inception.