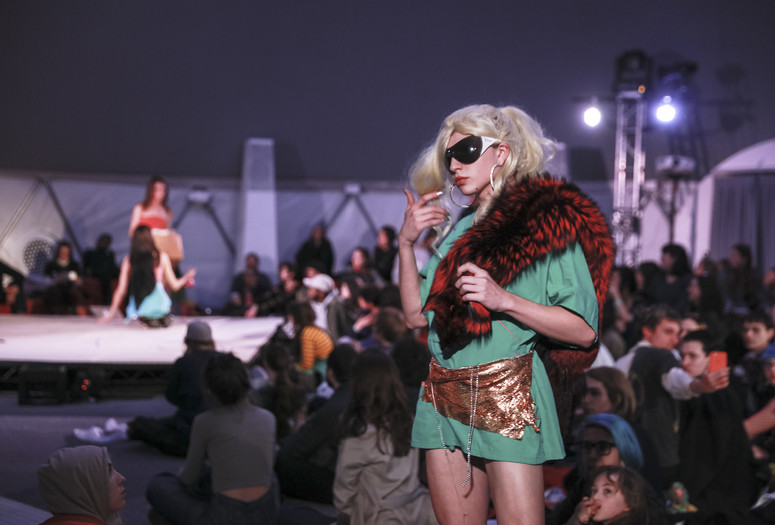 Intermedia artist India Salvor Menuez brings together a multidisciplinary group of designers, visual artists, writers, and performers, including Maria José, Sara Grace Powell, Rowan Oliver, Ser Serpas, Women's History Museum, and Ariel Zetina, to present original work utilizing performance, poetry, and music, to address mutual expression, community, and personal identity. The invited participants create a nonlinear narrative that touches on queerness, trans-feminine social dissonance, the othering of women, out identity, the symbolic connotations of garments, and collective consciousness.
India Salvor Menuez is part of New York's new generation of artists who are building an extended community both within the city itself and through the Internet and social media networks, with individuals frequently collaborating and working together on common projects.
MoMA PS1's acclaimed VW Sunday Sessions program welcomes visitors to experience art live and in real time. Embracing performance, music, dance, conversations, and moving images the program vividly demonstrates how these art forms can push us to engage with our contemporary world in creative, illuminating ways. With an emphasis on artistic practices that blur and break traditional genre boundaries, the program supports and commissions new work, inviting artists, curators, and other cultural instigators to share their latest projects.
MoMA PS1 offers one of the most extensive museum programs dedicated to live art in the world, representing a core component of the institution's mission since its founding.
VW Sunday Sessions is organized by Jenny Schlenzka, Associate Curator; Alex Sloane, Curatorial Assistant; Taja Cheek, Curatorial Assistant; Rosey Selig-Addiss, Associate Producer; and Lucy Lie, Production Coordinator.

VW Sunday Sessions and the VW Dome at MoMA PS1 are made possible by a partnership with Volkswagen of America, who have supported the program for five years since its inception.