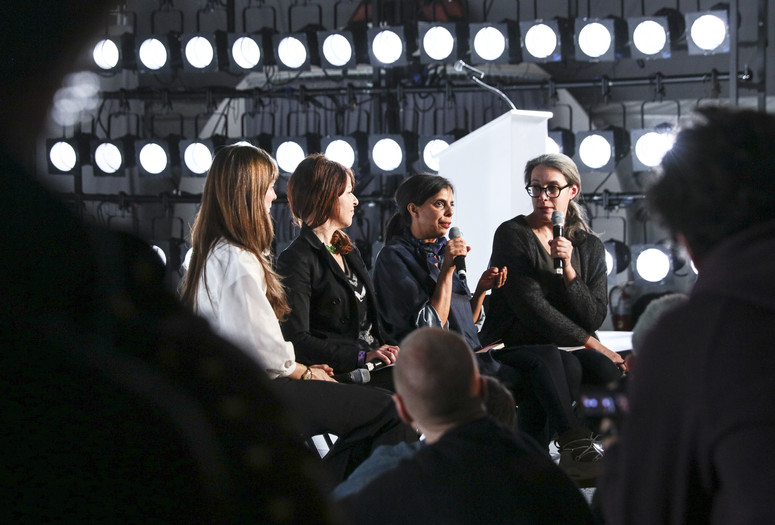 In her stark and highly personal full-length solo performance, Self Portrait Camouflage, choreographer Latifa Laâbissi—who was raised in France by Moroccan-born parents—uses tropes of caricature and the grotesque to conjure the silent aggressions and tensions at the heart of some immigrant experiences. Performing the piece naked, under a bright spotlight against a sterile white backdrop; fully exposed to the world, Laâbissi becomes an object to be gazed at, studied, and scientifically dissected. The performance evokes the imperialist custom of exhibiting indigenous people at World's Fairs. Against the backdrop of recent anti-immigrant populism in the US as well as the rest of the Western world, Laâbissi's themes of 19th-century representational politics and marginalization acquire new relevance.
A conversation with the artist follows the performance.
MoMA PS1's acclaimed VW Sunday Sessions program welcomes visitors to experience art live and in real time. Embracing performance, music, dance, conversations, and moving images the program vividly demonstrates how these art forms can push us to engage with our contemporary world in creative, illuminating ways. With an emphasis on artistic practices that blur and break traditional genre boundaries, the program supports and commissions new work, inviting artists, curators, and other cultural instigators to share their latest projects.
MoMA PS1 offers one of the most extensive museum programs dedicated to live art in the world, representing a core component of the institution's mission since its founding.
Latifa Laâbissi: Self Portrait Camouflage is supported by Institut Français, Ville de Rennes and Rennes Métropole and The Cultural Services of the French Embassy in the United States.

VW Sunday Sessions is organized by Jenny Schlenzka, Associate Curator; Alex Sloane, Curatorial Assistant; Taja Cheek, Curatorial Assistant; Rosey Selig-Addiss, Associate Producer; and Lucy Lie, Production Assistant.

VW Sunday Sessions and the VW Dome at MoMA PS1 are made possible by a partnership with Volkswagen of America, who have supported the program for five years since its inception.