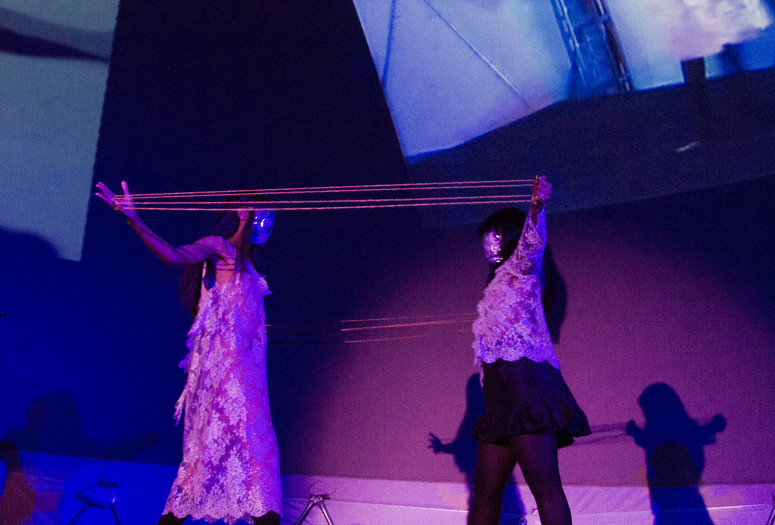 DEN$E features live musical performances, DJ sets, interactive performance, and hardware noise sets accompanied by live and pre-recorded visuals. Featured performers include DJ Haram B2B Mhysa, Marcelline Mandeng + Aurel Haize Odogbo, SCRAAATCH, lawd knows, Kayy Drizz, and :3l0N, among others.
ATM (At The Moment) describes themselves as "a collective and nomadic monthly event based in Philadelphia that supports electronic and East Coast club music as well as performance art by Black and brown queer and trans artists." DEN$E is a meditation on themes ATM has been developing together as a collective: money (under the guise of financial uncertainty and daydreams), the erotic and hypersexual, selfie culture and shameless vanity, technology and the perils of globalization, and queer utopia.
MoMA PS1's acclaimed VW Sunday Sessions program welcomes visitors to experience art live and in real time. Embracing performance, music, dance, conversations, and moving images the program vividly demonstrates how these art forms can push us to engage with our contemporary world in creative, illuminating ways. With an emphasis on artistic practices that blur and break traditional genre boundaries, the program supports and commissions new work, inviting artists, curators, and other cultural instigators to share their latest projects.
MoMA PS1 offers one of the most extensive museum programs dedicated to live art in the world, representing a core component of the institution's mission since its founding.
VW Sunday Sessions is organized by Jenny Schlenzka, Associate Curator; Alex Sloane, Curatorial Assistant; Taja Cheek, Curatorial Assistant; Rosey Selig-Addiss, Associate Producer; and Lucy Lie, Production Coordinator.

VW Sunday Sessions and the VW Dome at MoMA PS1 are made possible by a partnership with Volkswagen of America, who have supported the program for five years since its inception.