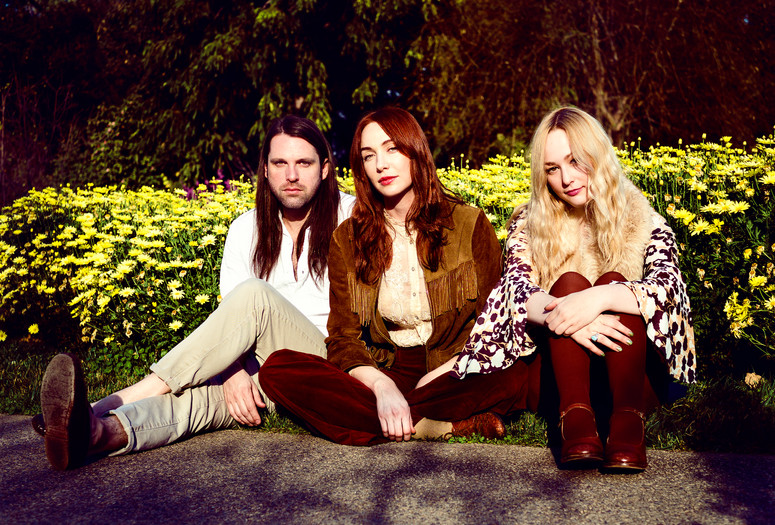 Musical acts for the 2014 series feature an array of vibrant, creative women who are making their mark on today's music scene. Veterans and up-and-coming artists perform a range of musical styles, including dream and synth pop, alt-folk, surf rock, neo-soul, and pop punk.
Tonight's Musical Performance: Tashaki Miyaki
Lucy Miyaki, drums, voice; Rocky Tashaki, guitars; Dora Hiller, bass, voice
The lo-fi, dream-pop trio Tashaki Miyaki, based in Los Angeles, was born from a late night jam between Miyaki and Tashaki in early 2011. They soon started making recordings with producer-engineer Joel Jerome. Posting a few songs on bandcamp.com suddenly led to responses from bloggers and business-types alike, including jetting off to London to play a private event at the legendary 100 Club. Seeking to fill out their live sound, the duo asked bassist Dora Hiller to join. Since then Tashaki Miyaki has toured North America and the United Kingdom, and released a self-titled EP, a single (Luvluvluv Records), a seven-inch of Everly Brothers covers (Rough Trade/For Us Records), and a tape of early recordings (Burger Records). A debut full-length album is in the works. A writer for Fader observed that the band's serene, ambling sound is "so pretty I'm afraid saying anything else might diminish it."
Every Thursday in July and August, 5:30–8:00 p.m.
Live music begins at 6:30 p.m.
Regular Museum admission applies. Performances take place in the Sculpture Garden. In the event of rain, the Garden will close, and music will take place in Theater 1. Please note: Sculpture Garden and indoor seating are limited and on a first-come, first-served basis.
The musical component of Summer Thursdays 2018 celebrates musicians living and working in New York City. Organized in collaboration with PopRally, the series hosts a variety of sounds that explore the City's expansive musical landscape. Each evening, unique sonic flavors fill the Sculpture Garden with a range of blended genres such as dream punk, Afrofuturist soul, funk fusion, hip-hop, experimental, and lo-fi baroque pop.
The series was organized in collaboration with PopRally, MoMA's cross-departmental committee that programs events at MoMA and MoMA PS1.