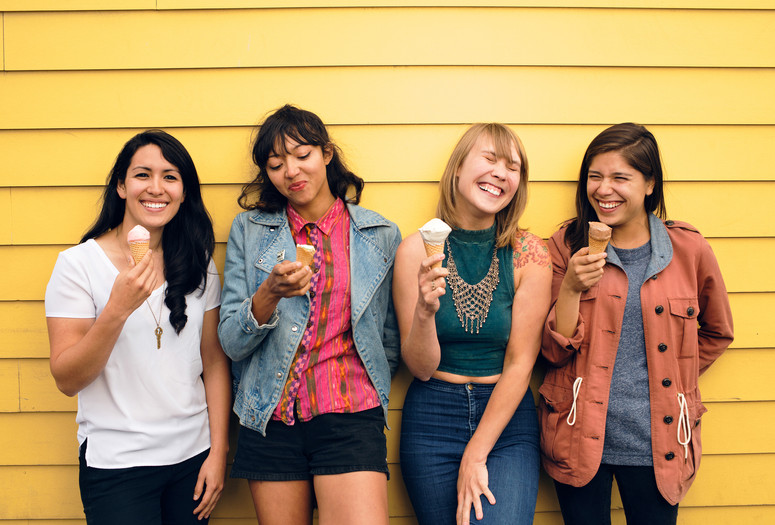 Musical acts for the 2014 series feature an array of vibrant, creative women who are making their mark on today's music scene. Veterans and up-and-coming artists perform a range of musical styles, including dream and synth pop, alt-folk, surf rock, neo-soul, and pop punk.
Tonight's Musical Performance: La Luz
Shana Cleveland guitar, vocals; Alice Sandahl, keyboard, vocals; Lena Simon, bass, vocals; Marian Li Pino, drums, vocals
The Seattle-based La Luz brings a relaxed beach-babe vibe to the sweet, thick harmonies of 1960s girl-group, garage, and doo-wop bands. Formed in the summer of 2012, La Luz is driven by thumping, energetic bass lines, danceable surf beats, trembling organ, reverb-soaked guitar, and a wild love of rock 'n' roll. Its music embodies that most elusive element of the human condition: longing, and the fleeting relief that tags along with deep desire. The band's first EP, Damp Face, was created with the help of friend Johnny Goss in a sweaty apartment across from the laundry room in a trailer park in Bothell, Washington. The initial run of 100 home-dubbed cassettes sold out after the band's first few shows, and in early 2013, Burger Records rereleased it. It's Alive, La Luz's debut full-length record came out on the Hardly Art label in October 2013. The band looks forward to inspiring damp-faced dance parties in clubs, basements, theaters, and backyard séances all over the world.
Every Thursday in July and August, 5:30–8:00 p.m.
Live music begins at 6:30 p.m.
Regular Museum admission applies. Performances take place in the Sculpture Garden. In the event of rain, the Garden will close, and music will take place in Theater 1. Please note: Sculpture Garden and indoor seating are limited and on a first-come, first-served basis.
The musical component of Summer Thursdays 2018 celebrates musicians living and working in New York City. Organized in collaboration with PopRally, the series hosts a variety of sounds that explore the City's expansive musical landscape. Each evening, unique sonic flavors fill the Sculpture Garden with a range of blended genres such as dream punk, Afrofuturist soul, funk fusion, hip-hop, experimental, and lo-fi baroque pop.
The series was organized in collaboration with PopRally, MoMA's cross-departmental committee that programs events at MoMA and MoMA PS1.