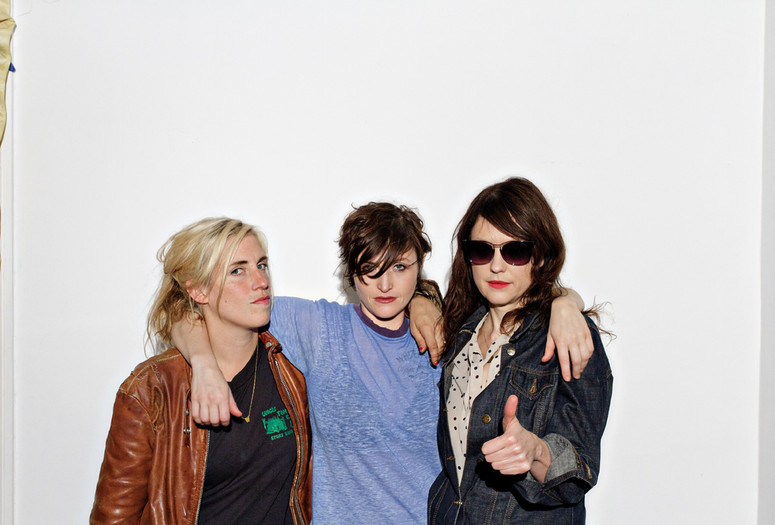 Musical acts for the 2014 series feature an array of vibrant, creative women who are making their mark on today's music scene. Veterans and up-and-coming artists perform a range of musical styles, including dream and synth pop, alt-folk, surf rock, neo-soul, and pop punk.
Tonight's Musical Performance: Ex Hex
Mary Timony, vocals, guitar; Betsy Wright vocals; bass, Laura Harris, drum
Ex Hex is what your older brother's friends listened to: "Roxy Roller" and "Virginia Plain" rumbling from the Kenwood in the basement. The pop-punk power trio hails from Washington, D.C., and is led by veteran rocker Mary Timony (formerly of Helium and Wild Flag). The three songs on Hot and Cold, the band's debut EP (Merge Records), were recorded in Timony's basement over the course of two days in July 2013. As a writer for Time Out New York noted, "Timony is a bona fide underground-rock hero. . . . The trio hammers out playful tunes that are catchy as heck—glammy, surf-splashed, and enhanced with an FM-radio classic-rock edge." A spring tour included SXSW in March; a much-anticipated full-length album is slated for release later this year.
Every Thursday in July and August, 5:30–8:00 p.m.
Live music begins at 6:30 p.m.
Regular Museum admission applies. Performances take place in the Sculpture Garden. In the event of rain, the Garden will close, and music will take place in Theater 1. Please note: Sculpture Garden and indoor seating are limited and on a first-come, first-served basis.
The musical component of Summer Thursdays 2018 celebrates musicians living and working in New York City. Organized in collaboration with PopRally, the series hosts a variety of sounds that explore the City's expansive musical landscape. Each evening, unique sonic flavors fill the Sculpture Garden with a range of blended genres such as dream punk, Afrofuturist soul, funk fusion, hip-hop, experimental, and lo-fi baroque pop.
The series was organized in collaboration with PopRally, MoMA's cross-departmental committee that programs events at MoMA and MoMA PS1.