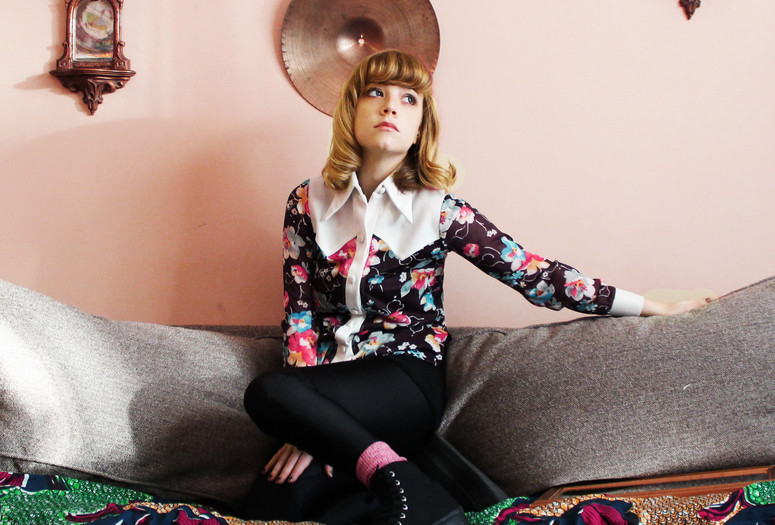 Musical acts for the 2014 series feature an array of vibrant, creative women who are making their mark on today's music scene. Veterans and up-and-coming artists perform a range of musical styles, including dream and synth pop, alt-folk, surf rock, neo-soul, and pop punk.
Tonight's Musical Performance: Computer Magic
Danielle "Danz" Johnson, vocals, keyboards, composition; Chris Egan, bass, Ignacio Rivas Bixio, drums
Computer Magic is the project of the New York–based producer Danielle "Danz" Johnson. After taking a break from DJing in New York City a few years ago, she moved in with her mom in Tampa, Florida. There she began experimenting with sounds, garnering inspiration from 1970s sci-fi films, which formed the genesis of Computer Magic. The style that resulted is bright electronic pop, with warm and wistful vocals over simple yet sturdy beats. Johnson has since toured with Chris Egan (Solange, Blood Orange, Turing Machine), and released seven EPs worldwide and two full-length records in Japan. She is currently working on a full-length Computer Magic record with producer Claudius Mittendorfer.
Every Thursday in July and August, 5:30–8:00 p.m.
Live music begins at 6:30 p.m.
Regular Museum admission applies. Performances take place in the Sculpture Garden. In the event of rain, the Garden will close, and music will take place in Theater 1. Please note: Sculpture Garden and indoor seating are limited and on a first-come, first-served basis.
The musical component of Summer Thursdays 2018 celebrates musicians living and working in New York City. Organized in collaboration with PopRally, the series hosts a variety of sounds that explore the City's expansive musical landscape. Each evening, unique sonic flavors fill the Sculpture Garden with a range of blended genres such as dream punk, Afrofuturist soul, funk fusion, hip-hop, experimental, and lo-fi baroque pop.
The series was organized in collaboration with PopRally, MoMA's cross-departmental committee that programs events at MoMA and MoMA PS1.